Why These $20 Million Uptown Co-ops Aren't Selling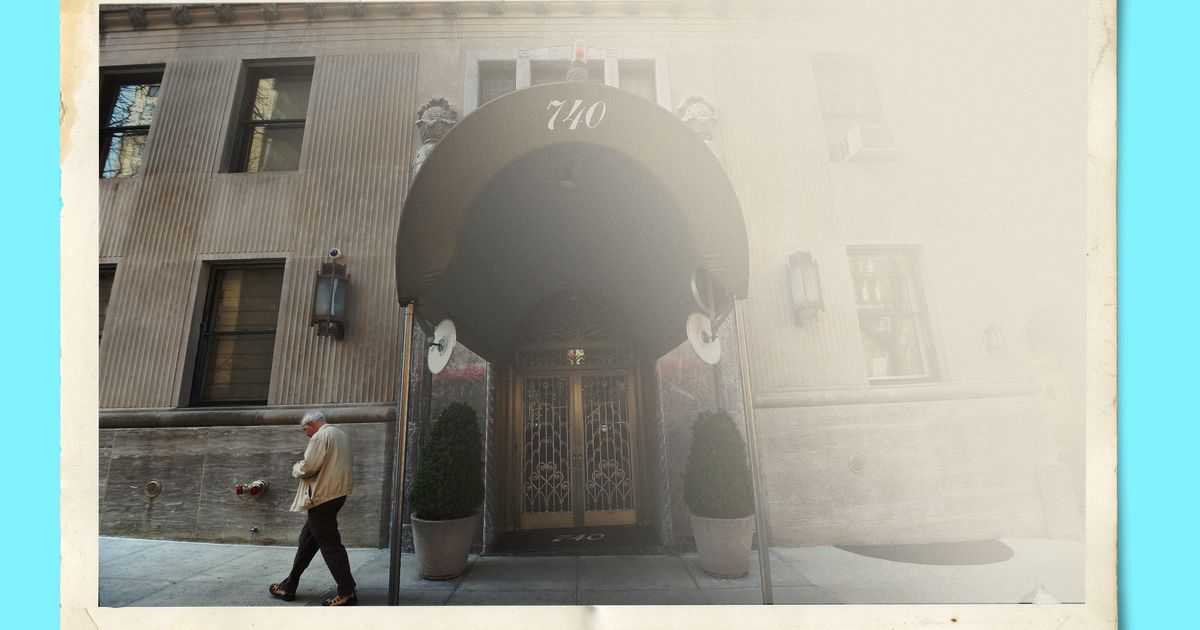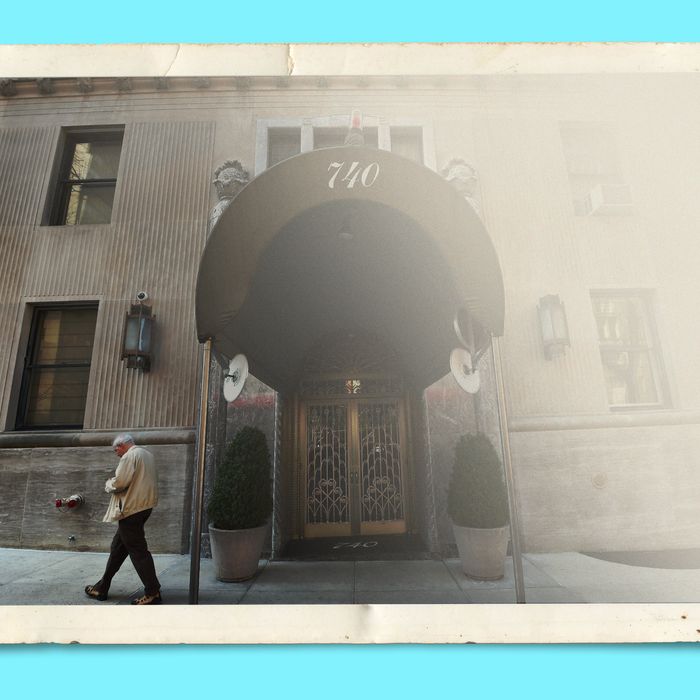 Photo-Illustration: Curbed; Photo: Stan Honda/AFP via Getty Images
For years, buying an apartment at 740 Park meant something. And that something was, quite simply, that you'd won. It was not a building for those on the make; it was a building for those who'd made it, the socially and financially dominant.
The childhood home of Jackie Kennedy Onassis (her grandfather built the place in 1929), 740 Park counted John D. Rockefeller Jr., a Chrysler heiress, and numerous financiers among its first residents. In the boom periods of the 1980s, 1990s, and early 2000s, apartments routinely fetched record prices, sometimes provoking bidding wars between billionaires. In 2000, Blackstone founder Stephen Schwarzman bought Rockefeller Jr.'s old 35-room penthouse for $37 million, a record at the time, and he was so besotted with the place that a few years later, he had part of the Park Avenue Armory transformed into a replica of the apartment for his 60th-birthday party. In 2004, David Koch and Len Blavatnik, two of the richest men in the U.S., were both vying for an 18-room duplex that was being sold by the Japanese government. Koch came out on top, boasting to Michael Gross, the author of 740 Park, that he "took it out from under his nose."
Koch died in 2019, and since February, his widow has been quietly shopping their apartment for $60 million, more than triple what Koch paid 18 years ago. But the trophy hunters have moved on. Apartments in the building, spectacular though they are (and everyone agrees they are spectacular), have a tendency to sit, often for years, then sell at a discount. The duplex of Steve Mnuchin, Donald Trump's secretary of the Treasury, first went on the market in 2009 for $37.5 million, then sold 12 years later for $22.5 million; John Thain's duplex penthouse, which the former Merrill Lynch executive bought for $27.5 million in 2006 and renovated, was offered at $39.5 million when it was first listed in 2018 and is now at … $27.5 million. (Try buying anything in Brooklyn for the pre-renovation 2006 price.) And the duplex of financier Charles Dyson lingered for a year and a half on the market before going into contract this summer, after a price cut from $19.5 million to $13.9 million.
220 Central Park South.
Photo: Robert K. Chin – Storefronts/Alamy Stock Photo
Twelve blocks down at 220 Central Park South — the new-construction condo tower designed by Robert A.M. Stern to look like a leggier version of an old-money, prewar co-op — the situation is quite different. Hedge-funder Daniel Och flipped a penthouse earlier this year for close to $190 million, about twice what he paid in 2019. Six months earlier, another buyer spent $157.5 million for two high-floor units that sold for $102.3 million the year before. And other less flashy new-build condos regularly notch $20 million and $30 million sales.
It's not that very rich people don't want to live at 740 Park anymore or that 10- and 20- and 30-room apartments in co-ops on Park and Fifth, Sutton and Beekman Places, where sales have been similarly lackluster, are undesirable, exactly. It's more that now they're just kind of beside the point. Far from trumpeting their real-estate purchases as proof that they've arrived, these days the global elite prefer to buy anonymously. It's about the asset, not the address.
"In the past, big money needed co-ops to be accepted and established," says Nikki Field, a Sotheby's broker who made her career selling condos to foreigners after the financial crash of 2008. "But no one needs 740 anymore."
Buying in a "good" building, as Tom Wolfe's 1985 Esquire essay famously called Manhattan's 42 socially prominent addresses, is, to put it mildly, a hassle — the boards, the requirements, the renovations, the resales. And that's by design. It's supposed to be hard, something that not just anyone with money can do.
Many buildings, including 740 Park, won't allow financing. And of those that do, it's often capped at 50 percent, while proof of cash reserves after purchase — liquid assets — is substantial. The financial disclosures required for the board package are also extensive: multiple years of tax returns and bank statements, W-2s, letters from employers. The socials might matter less than they used to — who wrote your recommendations, the philanthropies and clubs, where you summer and went to college — but they don't not matter, either. If the board turns a buyer down, it doesn't have to give any reason. And then there are all the restrictions on how you can use the apartment after you get in. Pied-à-terre purchases are frowned upon and sublets are out of the question.
"Co-ops were born in the early 1900s, and many of the developers were building for themselves and their friends. They were run as social clubs," says Donna Olshan, a broker who tracks the Manhattan luxury market. To wit: When 39 East 79th, known as the Emily Post Building (the doyenne of manners commissioned the building and lived there until her death), opened in the 1920s every resident was on the Social Register. Buying in such a building was a stamp of social approval — you'd gotten into someplace that was, if not practicing outright discrimination (and many did in the past), then highly discriminating.
In decades past, buildings like 740 Park could afford to be snobbish. But that was before the crime rates plummeted and rich, fashionable people started moving downtown and to Brooklyn. Celebrities stopped trying to coax co-op boards into accepting them by hobnobbing with socialites and hiring society decorators. The grand uptown apartments and their over-the-top aesthetics  — Louis Quinze, chintz, baronial splendor — fell out of fashion, at least among the fashionable. Jackie O. lived out the last years of her life at 1040 Fifth, but JFK Jr. and Carolyn Bessette had a loft in Tribeca.
15 Central Park West.
Photo: Sandra Baker/Alamy Stock Photo
As the desirable neighborhoods shifted and expanded, so too did the housing options. There had always been townhouses, favored by the independent-minded or those who, like Richard Nixon, couldn't get into co-ops. But starting in the early aughts, condos went from an inferior product, with nine-foot ceilings and cookie-cutter layouts, to starchitect-designed showpieces. There was Richard Meier's trio of minimalist glass towers on Charles and Perry Streets. Then 15 Central Park West, a.k.a. "Limestone Jesus," opened in 2007, with all the hallmarks of the great prewar co-ops — a limestone façade, gracious prewar floor plans, and a location on Central Park — without any of the fuss. Designed by Robert A.M. Stern and developed by the Zeckendorfs, the apartments there sold for what many considered to be outrageous sums. And then they resold for twice that. Sandy Weill, the ex-Citigroup chairman, paid $43.7 million for a penthouse in 2007, then flipped it for $88 million in 2012. Buyers included both old-line co-op types and celebrities like Denzel Washington and Sting.
Condos got a further boost after the 2008 crash, when foreign buyers, many of whom couldn't get into co-ops, were some of the only buyers in the market. "Gary Barnett delivered," says Field, referring to the developer of One57, the first supertall on 57th Street. "That's when we started selling $50 million apartments off plans."
In the years since, many other developers have followed the 15 CPW playbook: Hiring an architect like Stern, Peter Pennoyer, or William Sofield to create something reminiscent of a grand prewar co-op, then adding in lavish amenities and modern layouts. It's not just the celebrities, swimming pools, and resident-only Jean-Georges restaurants that are attracting buyers, though. Co-ops have a reputation for being a bit, well, geriatric. Which may be a little unfair (there are some younger buyers), but a lot of co-op sales are estates and the buildings are controlled by the (often literally) old guard. When Jeff Blau, the president of real-estate developer Related, was snubbed by the board of 820 Fifth in 2009, it was allegedly at the behest of 89-year-old arts patron Jayne Wrightsman, the co-op's ultrapicky gatekeeper who wasn't even technically on the board. (Not even a call to Wrightsman from then-Mayor Michael Bloomberg could persuade her, apparently.) But while a decade ago, there were still plenty of supplicants willing to grovel before a panel of senior citizens, these days even apartments in the best buildings languish, including gems like Wrightsman's own 7,000-square-foot floor-through with 100 feet of park frontage. The apartment was listed for $50 million after Wrightsman died in 2019. Three years later, it has yet to sell, even after the price was dropped to $39 million. Which is a bit embarrassing for a building so obsessed with exclusivity, whose listings crow about the rare opportunity to own in the 12-unit building.
820 Fifth Avenue.
Photo: Google Maps
As for renovations? The big apartments all need it, says Claire Groome, a Sotheby's broker. "It doesn't matter what they look like in pictures. When you walk in, you realize it needs at least $2 million to $3 million. Usually plumbing, electric, floors, and anything you want to do requires board approval. I sold an apartment at a Park Avenue building, a five-bedroom with a library, but there were only two bathrooms. The building doesn't give away bathrooms easily, and people paying $14 million, $15 million want more than two bathrooms." And co-op boards have been known to veto things considered wholly uncontroversial elsewhere. Like through-wall air conditioning.
Kitchens present another problem — they're generally sequestered, along with a warren of maids' rooms, at the back of the apartment. Roger Seifter, a partner at Robert A.M. Stern, noted that even if owners aren't doing the bulk of the cooking themselves, they want to be able to make their kids a grilled cheese while everyone is hanging out together. As for the maid's rooms — as many as two or three in larger apartments — no one needs more than one, if even that, now that live-in staff is uncommon. The rooms themselves, though, which tend to be small and dark, can be hard to repurpose.
Even the amount of power running to the apartment can present a problem. One person with whom I spoke remembered a friend who looked at an apartment in the Dakota in the 1990s that "was spectacular in every way but barely had electricity." Tom McManus, a partner at architecture firm Ferguson Shamamian, which does many high-end co-op renovations, told me that a lot of prewar co-ops were piped primarily for gas, but today's appliances tend to be electric. "The amount of electric is limited — and it's often limited coming from the street — so you have to work around that." There are lots of things to dissuade potential buyers, like the time it takes to cart all the building and demolition materials through the service elevator — not a small task if you're gut renovating an 18-room apartment on the tenth floor. "You're working with a lot of people who have very extensive means, and they're not thinking about these types of limitations and boundaries," McManus says.
The apartments themselves, all the architects emphasized, are incomparable, and almost any modernization achievable. But "you're essentially rebuilding the building apartment by apartment," says architect Peter Pennoyer, the principal at his eponymous firm. "If a renovation costs $1,000 per square foot, you have to feel that it's worth it." Many buildings also have summer work rules, meaning that work can only be done during the months when residents are presumably in Southampton or St.-Tropez. This means that renovations often take longer than they would in other buildings, where work can be done year-round. Although, this, too, comes with added complications: boards enforce just how long, and impose fines on residents who go beyond their designated allotments. And since COVID, especially, the idea of renovating at all is "toxic" to many buyers, in the words of one high-end broker.
Besides, magnificent as the 14- or 18-room co-ops may be, they're also somewhat out of step with modern lifestyles, even after they've been completely overhauled. The beautiful enfilade rooms, those formal dining rooms and libraries and galleries, are lovely, but the lavish dinner parties and at-home entertaining that were so central to uptown social life have largely gone dormant. These days, buyers are more interested in amenities and want something more than "a lobby and doormen," in the dismissive words of one broker.
Swimming pools, squash courts, and private restaurants might seem about as likely to get used as a third maid's room, but it all sells. "People love that crap. They love it," one broker told me.
They love a lot of other things, too. Flexibility, anonymity, the ability to sell their apartment within a short period of time to anyone with the money to buy — condo boards can turn buyers down, but then they have to buy the unit themselves, an option they rarely, if ever, elect to exercise.
The idea that you'll buy an apartment and live there for the next 15 to 50 years is outdated, adds Jacky Teplitzky, an associate broker at Douglas Elliman. "The younger generation, people in their 40s, they want an asset. Even their primary home, they see as an investment." And they want to be able to sublet the place if they need to leave the city for their career or, say, a global pandemic. "If anything in your life changes, you can do something with it," Teplitzky continued. "That's why now even the New Yorkers buy in condos."
They also like to buy in LLCs. At 150 East 78th, a new-build, Stern-designed limestone tower on Madison and 78th that currently has three $16 million penthouses in contract, 15 of the 20 apartments that have closed so far sold to LLCs. (Of the other five, not one responded to a request for comment.)
As a result of such stodginess, prices at condos have also been outpacing co-ops for years — in 2010, the average sale price for a four-bedroom-plus Manhattan co-op was $6.7 million, according to Douglas Elliman. A decade later, it had fallen to $5.5 million. A comparable condo, meanwhile, jumped from $7 million to $11.4 million. And in recent years, Upper East Side new builds have done especially well — out of all of Manhattan, the Upper East Side had the highest yearly growth in average price per square foot for new development sales in 2020, 2021 and 2022, according to Compass Development Marketing Group. Such is the sales velocity at new-built condos compared to the old-line co-ops that one of the more prolific uptown developers declined to comment for this story, afraid that it would come off as gloating.
At 109 East 79th, 27 of the 31 units in the building, priced between $4.95 million and $35 million, have gone into contract since sales launched last fall, including some above the asking price (the last four apartments were just released). Cathy Franklin, the Corcoran broker handling sales, says that she regularly gets calls from people who missed out. "I have some that call every week — every single week — asking to please keep them informed," she says. "They ask if anyone would want to sell a three-bed, if anyone wants to sell one of the penthouses, to let them know if the townhouse — there is one townhouse — goes back on the market."
Such is today's condo mania that even buildings far from prime uptown locations are selling briskly. Take Beckford Tower, on East 80th Street just east of Second Avenue, next to an Enterprise rental-car garage, where a five-bedroom closed for $10.7 million this October. "A penthouse there sold for $25 million — it's achieved almost $4,000 a square foot, and this is on Second Avenue," says Teplitzky. "A decade ago, no one would have thought that a New Yorker would have paid those prices on Second Avenue, but the buyers are New Yorkers, not foreigners. They're Upper East Side families, they send their kids to local schools, they like the amenities and not having to renovate for two years."
Compare Beckford's sales, meanwhile, to the famously snooty River House, which rejected Diane Keaton and Gloria Vanderbilt and wouldn't allow the use of its name in advertising until the mid-aughts. River House's most famous resident is arguably Henry Kissinger, now 99, although Uma Thurman did, in a move widely considered shocking, buy an apartment there in 2013 (there were rumors she planned to sell and move to a more lively area, but that never came to pass). The co-op, which has been in a years-long slump, had five sales close last year, the most expensive a seven-bed, seven-bath apartment for $10.3 million. All sold at a discount, between 5 and 18.5 percent, and the building currently has another eight apartments on the market, the most expensive priced at $11 million. One of them, a three-bedroom, is asking $1 million less than it listed for 2014.
Resales at many other co-ops have been similarly dismal. Consider the fate of the Mnuchin clan's Upper East Side co-ops. In addition to Steve's hard-to-sell duplex at 740 Park, his sister Valerie lost money on the sale of her penthouse at 898 Park Avenue. She paid $8.4 million for the apartment in 2014, undertook a big renovation, and listed it for $13.2 million in 2018. In 2021, the penthouse sold for just $7.7 million. Their father, Robert Mnuchin, paid $20 million for a co-op at 944 Fifth in 2008. He listed it for $25 million in October 2021, then dropped the price to $20 million the following May, netting a buyer. But the sale fell through — possibly a board turndown — and he lowered the price $19 million. The apartment is once again in contract, but Mnuchin is selling at a $1 million loss after 14 years of ownership (and that's without the broker's fee, which comes out to about $1.2 million for a $19 million sale). "No investment adviser would ever tell someone to buy in a co-op," says one developer.
"These co-op boards need to change because they are absolutely devaluating the real estate," says Olshan. "If they were public corporations, you'd have a gang of activist shareholders ready to take the board down for not maximizing value. There are just too many things to buy that are newer, that have amenities and a more diverse and interesting group of people." And while many people claim that living in a co-op is far more congenial than holing up in a townhouse or condo, that hasn't been Lillian Heidenberg's experience. The private art dealer, who lived in Upper East Side co-ops for more than 25 years, sold a three-bedroom co-op on Park Avenue to buy a townhouse in Park Slope four years ago. "I found this house on Google. I didn't know anything about Brooklyn, but I took an Uber," she says. "It's much friendlier here. I know my next door neighbors, the person who lives across the street," she says. "Park Avenue people really weren't that friendly."
Brokers who specialize in co-ops point out that they still sell for a lot of money — $20 million here or $60 million there is nothing to sneeze at — and Julia Koch, who clearly shared her late husband's love of co-ops, dropped $101 million on two apartments at 4 East 66th earlier this year. And some condos have pretty dismal resales, too, like One57. It's also entirely possible to buy into a brand-new condo, like 432 Park, that turns out to have endless construction woes. Besides, some of the $10 million and $20 million apartments that have been sitting at more exclusive addresses are on lower floors or are on the smaller side. Other gems that languished were overly ambitious in their pricing, like Susan Gutfreund's 12,000-square-foot duplex at 834 Fifth, which listed for $120 million in 2016 and finally sold for $53 million three years later.
The flip side is that if you have $20 million, $30 million, even $50 million in cash on hand and can make it through the application process, a top-tier co-op is one of the best deals in the city. "Who doesn't want to live on Fifth Avenue facing the park?" asks one broker. "These buildings are gorgeous, they're well run, and the floor plans are magnificent." So what if some nearby condos on less prime plots sell for $150 million or $200 million?
Michael Gross, who wrote the book on 740 Park and the building that supplanted it as the king of New York real estate, 15 Central Park West, says that he thinks co-ops like 740 Park are due for a renaissance. "The last time those old-school co-ops were the glittering-gem status symbols was really 20 years ago," he says. "Pendulums swing, and this pendulum has not swung for a long time." Besides, all the best-selling condos are just mimicking the architecture of the old-line co-ops, he notes. Surely that says something about their enduring value?
It's not so much that co-ops lost value, more that they got drowned out by a sea of global wealth. There's now tech money and bitcoin money and mysteriously sourced, possibly ill-gotten foreign-investor money. And if they do want to put their money in real estate, they want to buy with an LLC. "The people who loved co-ops still love co-ops," says Loy Carlos, a broker at Serhant. "It's just that there are less of them these days."
The co-op boards themselves don't seem to be overly concerned. A few have loosened up their rules somewhat (allowing more or some financing, permitting pied-à-terre purchases, easing summer-work rules) and added non-basement gyms and yoga rooms, but mostly they seem to find that kind of pandering beneath them. Let the nouveaux riches waste their money on wellness suites and half-courts. And maybe, in the end, not caring is the true status move.