The 12+ Best Smart Home Devices Under $50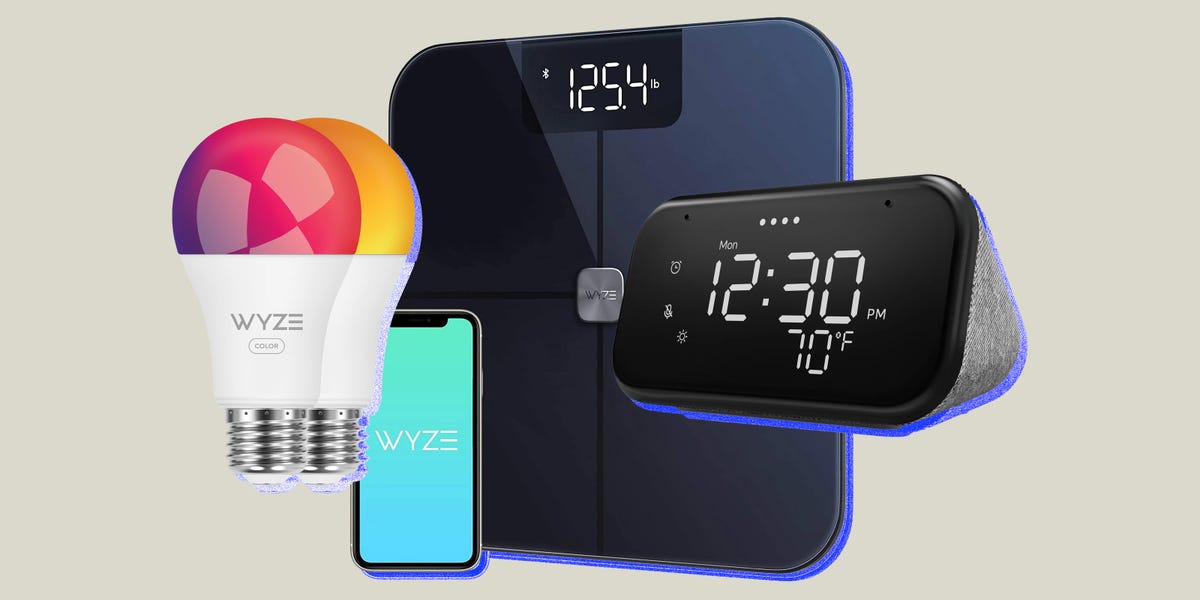 Though it hasn't perhaps been the big, sweeping revolution some tech-heads expected it to be — more of a slow crawl toward progress — smart technology has invariably crept into most of our lives and, while there have been some bumps in the road (like when it came out that Alexa, Amazon's AI Assistant, had been listening to and recording all our conversations), it is clearly here to stay. While some might give in to their fears of Big Brother, there are those of us that have come to realize that smart tech can actually make our lives a whole lot simpler, more convenient and (in an increasingly technology-driven era) better connect us to the world around us.
There have, however, been a few clear drawbacks. The biggest for many might just be the investment cost. As smart tech is still relatively new, it can get very expensive very quickly. Nonetheless, there are options for those looking to make their homes (and lives) just a bit smarter. In fact, there's a bevy of smart devices you can get right now on the cheap — ranging from cameras to speakers and even lightbulbs and scales (you know, the kind upon which you might weigh yourself). If you're looking to integrate some smart tech into your life, you've come to the right place — these are the best smart home devices you can get for under $50.
What to Look For in Smart Devices
Especially if you're shopping on a budget, there are some things you need to be wary of when picking out your smart devices. The biggest thing here is compatibility. Unfortunately, not all smart devices — for home use or otherwise — are going to have the same level of compatibility across the board. If you have an ecosystem or AI assistant you prefer (Amazon Alexa, Google Home, Apple HomePod, etc.), you should make sure the devices you pick will work with that assistant. Otherwise, these devices made to make your life easier and more convenient might actually end up making things harder and more frustrating.
It's also important to pay close attention to the specs of a given device. You might be looking for a wireless speaker, but you'll discover that "wireless" can mean a few things here. For instance, Apple's HomePod Mini is a wireless smart speaker in the sense that it works with other devices over Bluetooth/WiFi. However, it still requires a wall outlet for its power plug, making it perhaps not quite as wireless as you may have thought. As with any shopping endeavor, these are just a couple of examples — make sure you do your due diligence, as you always should when shopping for smart devices, even on a budget.
Lenovo Smart Clock Essential
Though this is called simply a "clock," it does far more. It can tell you the weather outside, set a timer for your cooking escapades, add items to your shopping list, make hands-free calls, etc. — all with the help of Google Assistant. In fact, despite its low entry price (an MSRP of just under $50, but a current sale price of just $20), it's still one of our favorite alarm clocks available, smart or otherwise. And since it's compatible with Google, that means it's also compatible with over 40,000 other smart devices.
Wyze Bulb Color
Unlike traditional bulbs, which normally illuminate a space with one color and tone of illumination, the Wyze Bulb Color offers a whopping 16 million different color options, the ability to dim on command, a range of color temperatures to choose from, a suite of automation options, simple app controls and more. You can even set it to sync with your music and control it with the sound of your voice. Put one in every room and turn your whole home into your own personal mood lamp.
Wyze Scale
Yes, your smart home devices can (and should) include fitness-focused gear, as well. After all, a traditional scale only measures one metric: your mass. This one, however, can detect and track a whopping 12 different metrics including your body fat percentage, bone mass, body water percentage, protein levels and so many more. And that will give you a much better picture of your overall health and help you better tackle any and all of your fitness and health goals. Of course, it also syncs with an included app to take all the guess- and busywork out of the equation. And you can even share your metrics with family and friends, should you so desire.
TP-Link AC1200 WiFi Range Extender
While a WiFi range extender isn't, on its own, a smart device, per se, it can be necessary for some to ensure that their smart devices are all within range of one's home WiFi network and, therefore, all linked together. Essentially, this device functions as a sort of Venn diagram-like expansion, helping to toss your wireless signal even further from your router/modem then it might reach on its own. These are especially useful for people with larger areas that need network coverage and/or people that don't have an existing mesh system (or the need for one) that just need a tad more signal reach. This one can also handle the load from up to 25 devices and cover up to 1,500 square feet of extra coverage.
Amazon Echo Dot (5th Gen)
Amazon's most popular smart speaker — both because of its low entry price and its handy smart tech — the Echo Dot is kind of a tiny titan, capable of playing all your music at surprisingly high volumes with excellent sound quality, as well as acting as a smart interface for voice commands. That means you can access Alexa and all its useful AI features just with the sound of your voice — like adding things to your calendar or shopping list, giving you cooking instructions and even telling jokes. And yes, even when it isn't on sale, the Echo Dot is still under $50.
Kasa Smart Plug Mini
Did you know that your plugged-in devices can actually sap power even when you're not using them? Well, they can — but you're not without ways to combat their leeching. Using a smart plug properly can actually save you a noticeable amount on your electrical bill each month. And the Kasa set you see here is one of the most accessible ways to manage that. With Apple HomeKit, these little devices can learn your habits and schedule when to supply power to their plugged-in counterparts and when to cut the cord, so to speak. You can also view your energy usage in real-time and control them from anywhere (even when you're not home) — they even offer voice controls.
Lepro Smart Table Lamp
Like the bulbs you saw earlier in this article, the Lepro Smart Table Lamp allows for color customization across a whopping 16 million different colors and a range of temperatures and brightnesses. Unlike those bulbs, however, this is a fully standalone device — meaning you won't need a lamp into which to plug it. It also has voice control, compatibility with Alexa and Google Assistant, easy timers and schedule settings, convenient app control and even simple buttons so you can control it in an analog manner. This smart device is perfect for your bedside and won't cost you more than $42.
Roku Streaming Stick 4K
Most new televisions that have come out over the last few years have some measure of smart tech. But all of them (as far as we know), even the most budget-friendly ones, fall over $50 to pick one up. However, if you have a perfectly good TV and you just want a small, budget-friendly device to add some smart features to it, you can't go wrong with the Roku Streaming Stick 4K. Along with granting access to HD streaming across dozens (if not hundreds) of apps, this quick-booting WiFi streaming stick also boasts voice controls, plug-and-play functionality, compatibility with the most popular AI assistants and much more.
Amazon Eero Mesh WiFi Router (Certified Refurbished)
Most of the time, Amazon's Eero Mesh Wifi Router will cost you a lot more. But if you're looking to save some money, you can get a certified factory-refurbished one for $55 — but it's even less when it's on sale like it is right now for $45. It works like new and even comes with the same warranty you'd get out of a brand-spanking-new one. And what do you get? Well, 1,500 square feet of wireless coverage, for starters. It also works with Alexa, can be paired with other Eero devices to extend your WiFi mesh to an even larger space and it only takes minutes to set up and use.
Roku Smart Home Outdoor Wired Camera SE
Roku is undoubtedly best known for its streaming devices and perhaps lesser known for its actual TVs and soundbars. But the brand has expanded beyond that, as well, into the realm of smart home devices. And while they're all fairly affordable for their respective categories, we're most interested here in the brand's security cameras, like the 1080p HD outdoor one you see here. With both motion- and sound-detection tech, as well as simple app control and both battery- and wired-power available, this is perhaps the best ultra-budget-friendly security cam out there. And if you already have Roku devices, it will integrate beautifully into the rest of your home's smart ecosystem.
Monster Smart Home 16 GB Digital Photo Frame
Thanks largely to smartphones, we today have the ability to take and store thousands upon thousands of photos of our loved ones (and ourselves) in our own pockets. Sadly, most picture frames haven't kept up the pace. This one, however, can store 16GB of photos and rotate through them, so you can enjoy and appreciate those thousands of photos in your own home (without having to scroll through your camera roll, of course). All you have to do is download the app and sync to your frame, pick the photos you want, and — voila! — enjoy. And if you're worried about quality, this smart frame will display them at 1280p HD resolution, which is better than most TVs even by today's standards.
Ikea Trådfri Smart Lighting Ecosystem
Technically, Ikea's Trådfri isn't a single smart device but rather a collection of interconnected smart devices made to create a smart ecosystem within your home — mostly as a means of controlling lighting. It includes dimmer switches, light bulbs, motion sensors, outlets, remote controls and a lot more (there are 109 products in total). And most of them can be had for under $50 (though there are a few kits that are well over $100). If you want to kit out your home with smart tech but you want to keep it budget-friendly, this is one of the best options out there. It's worth noting, however, that you'll need to use the Trådfri Gateway (which is out of production) or the Dirigera Hub ($69.99) and accompanying app in order to integrate it with your existing smart devices (compatibility includes Amazon Alexa, Google Assistant and Apple HomeKit).