Taylor Swift's Homes and Real-Estate Net Worth, Ranked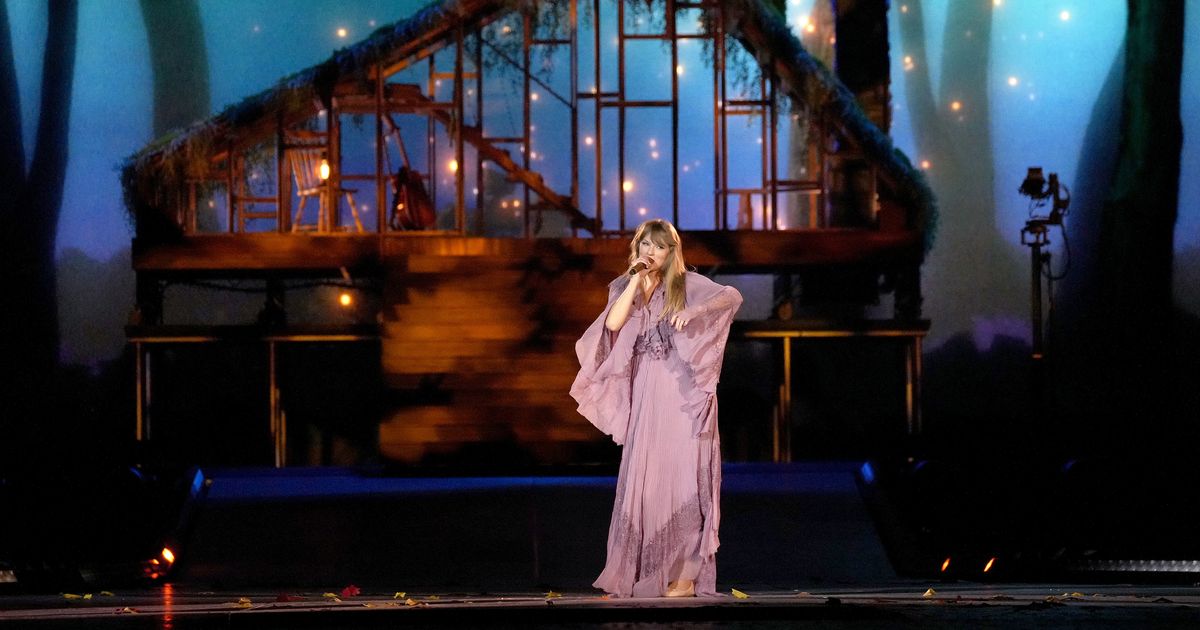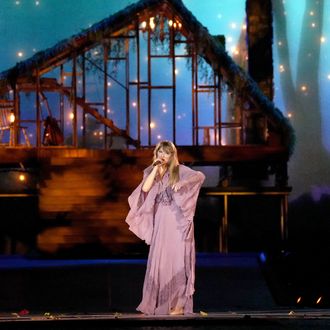 Her house doesn't even have walls! Think b4 you judge someone :(.
Photo: Kevin Mazur/Getty Images
On March 16, our nation's preeminent chronicler of hypercapitalism, The Wall Street Journal, published an article estimating the net worth of Taylor Swift's various real-estate holdings to be worth at least $150 million. Swift has bought and sold a number of houses over the years via "a variety of trusts and limited liability companies," and journalist Candace Taylor breaks these assets down, checking public records and estimating values of the homes that Swift currently owns. As Swift embarks on her Eras Tour, we're making our own valuations of all her properties.
At the baby age of 20, Swift bought her first property, a penthouse near Nashville's Music Row, for $1.99 million. She designed it at the time in what she called a "whimsical, quirky, eclectic tree house" style, because what is a $2 million penthouse if not a really, really big tree house? Right? Swift designed the place herself with mismatched chairs, walls and cupboards painted in vibrant colors and patterns, and kitschy magnets all over her stainless-steel appliances. "I wanted, like, every color," she told Vulture in 2013. You can see it in all its maximalist glory in a Red-era interview Swift did with Katie Couric back in 2012. She also bought the one-bedroom unit below it for $387,000, which is the sort of price tag that could just break your 2023 heart in two.
Why rank the Nashville pad so low besides the fact that it's in Midtown? So thrilled you asked. The penthouse is in a luxury-condo complex called the Adelicia, named in honor of a 19th-century Tennessean woman, Adelicia Acklen (née Hayes). So far, so good — the sort of thing Swift lives for, even. But then! The building's website has a whole section called "Inspiration," framing Adelicia as a girlboss (you know where this is going) and not mentioning that she owned over SEVEN-HUNDRED-AND-FIFTY slaves. Swift is well aware of the historical significance of her other properties, looking up their histories and going so far as to register for landmark status. This place is unholy ground!
In 2011, Swift bought this four-bed, four-bath mansion for $2.5 million, which is a steal for the size of the property and the home's 5,600 square footage. The year before, she had bought a smaller red-brick mansion closer to downtown Nashville, which she later sold. This one's on the site of a former horse farm, which definitely complements Swift's horse-girl energy. It's hard to find pics of the inside since Swift took ownership, but it used to be deeply ugly and belonged to a music exec. Swift's mom may or may not live there. Nicole Kidman is her neighbor — or was, anyway. She's been trapped in that AMC for years.
Swift spent lockdown with Joe Alwyn in a Primrose Hill rental worth £7 million. Not much has been seen of this place's interior, but the Daily Mail is pretty convinced that both Harry Styles and Tom Hiddleston live nearby. It's just the most Swiftian behavior to be in light jogging distance of her exes. She probably stayed here while filming Cats, so that's nice.
When Swift was in her "dating a Kennedy" era, she straight up bought a Hyannis Port mansion across the street from the Kennedy Compound. Swift and Conor Kennedy's breakup doesn't even factor into the top-100 most haunted things to happen near that place. She sold it shortly thereafter.
Swift bought her first two penthouse units in Tribeca's Sugar Loaf Building in 2014 for $19.95 million. What's ironic is she bought this prime NYC real estate from Peter Jackson, and at a combined 8,000 square feet with the wall knocked out, the penthouse is probably the single-least hobbit home–esque apartment in the entire borough. Except for the baking-cookies part — that's a little hobbit-ish. Swift has treated this building like her own personal Sims 4: City Living property, continuing to buy more units and rearrange walls to create one massive downtown home. The Journal puts a lot of emphasis on how she built a custom private garage in the space, which really doesn't feel necessary considering she travels in and out of there by suitcase. The publication estimated the value of her Tribeca holdings at $45 million.
When Swift did the rite of passage that is Vogue's "73 Questions" series in 2016, she welcomed the magazine to a very homey, warm space. It was surprising — not because this came years before the cottagecore of evermore but because she is known to live in ritzy Beverly Hills. This wasn't the sprawling, Old Hollywood manse she bought for $25 million from the Goldwyn (as in Metro-Goldwyn-Mayer) family the year prior. It was filmed in her Los Angeles "starter house," which had an incongruously New England–style exterior and which she sold in 2018 for $4 million (after buying for $3.55 million in 2011). That was the year she also sold a second four-bedroom home she owned in Beverly Hills that she used as the "guest house." Swift successfully petitioned for the house to get historic-landmark status in 2017, and the Journal puts its 2023 estimated value at $70 million. We love seeing Swift align herself with Old Hollywood now that she's working on making her debut feature. The eras are in sync.
Swift's stately mansion in Westerly, Rhode Island, sits atop the biggest hill in the area, so she's quite literally the monster on the hill. It's also so forward-thinking — and, frankly, so Greta Thunberg of her — that she bought a beach house so high above sea level. This property, with 700 feet of New England shoreline, is best known as Swift's Fourth of July headquarters during her "squad" heyday, and it gave us many good celeb-filled Instagram moments. She also used it as inspo for "the last great american dynasty," which, okay! If Swift is going to have a Grey Gardens moment 50 years from now, holed up and feeding hundreds of cats with Karlie Kloss, this is the house where it'll happen.
The Cornelia Street apartment in the West Village was — gasp! — a rental and really shouldn't even be on this list at all, but it was ground zero for her relationship with Alwyn, and Swifties make pilgrimages there to this day. The apartment's namesake song represents that last sweet summer before we were collectively battered down by the pandemic, when the Swifties among us still held on to hope that one day we'd find that perfect relationship or, even better, that perfect apartment. Mostly it gets the top spot because location, location, location!