Seth Rogen's Airbnb Furniture is Surprisingly Affordable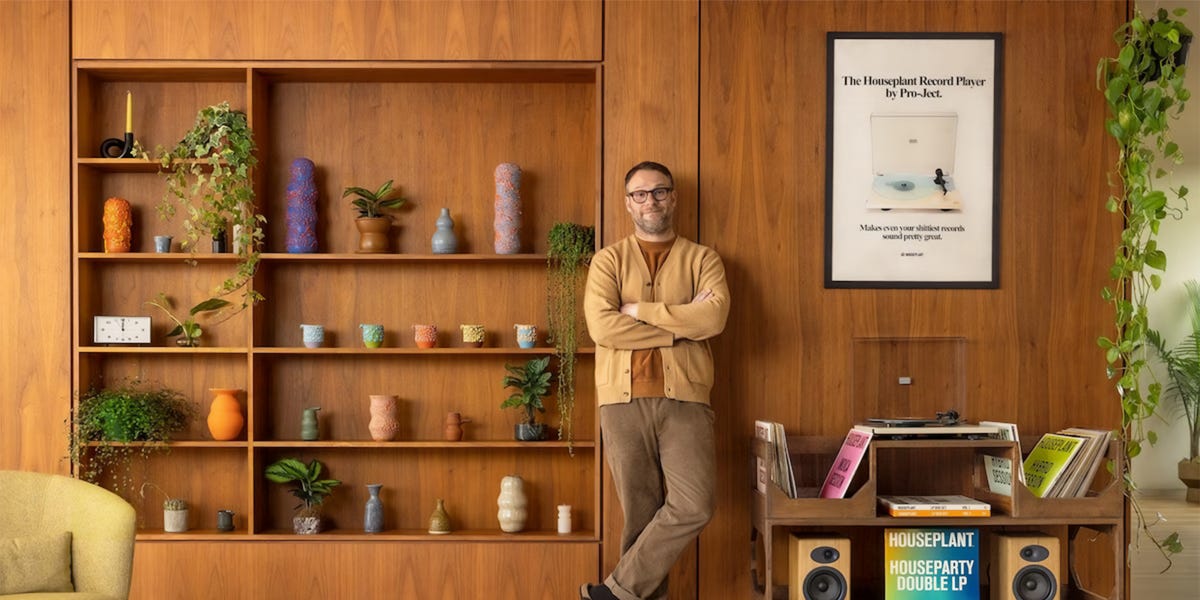 On February 7 at 1 pm EST, Airbnb will open up booking for one of the site's most hyped stays yet. Hollywood star and cannabis entrepreneur Seth Rogen is hosting three one-night stays on February 15, 16 and 17 at a gorgeous home in the Hollywood Hills, where the lucky guests will have the chance to listen to records and throw pottery with the actor.
Titled "A High-ly Creative Retreat," the stay is part of a collab between Airbnb and Rogen's weed-centric lifestyle brand Houseplant, with the stylish digs being described as a "Houseplant-inspired retreat." And what that means, apparently, is lots of mid-century modern decor. And while the house is undoubtedly worth several million dollars, the furniture that fills it is surprisingly affordable. Here are all the goods we spotted in Rogen's Airbnb pad, along with where you can get them if you're looking to cop the star's swanky style.
Seth's Record Set-Up
The first thing that caught my eye was Seth's stunning record stand, which I recognized as one from Portland-based Wicker Wood Works. Sure enough, the brand confirmed on Instagram that it is indeed their Irving model. Perched on the record stand is naturally Houseplant's own record player collab with Pro-Ject, along with a pair of bamboo-cased Audioengine A5+ speakers.
Seth's Coffee Table
Staying in the living room, sitting underneath Houseplant's Green Curvy Tray and Ashtray set is a glass-topped coffee table with an appropriately curvy wood base. The table, believe it or not, comes from Urban Outfitters. The Aria Coffee Table is a UO-exclusive design made from eucalyptus and walnut veneer, with a tempered glass top. And it's currently on sale.
Seth's Accent Chair
Closing things out in the living room, we have a unique modern accent chair next to Houseplant's beautiful Standing Ashtray. It's from DTC furniture brand Castlery and it's known as the Amber Swivel Chair. It comes in either white boucle one of two fabric shades, with Seth going with the very chill Meadow Yellow. Like the coffee table, it's currently on sale.
Seth's Bedside Lamp
Moving on to the bedroom, the nightstand has a very striking table lamp next to Houseplant's innovative marble Car Lighter and Ridge Ashtray. The lamp is West Elm's Edie Prismatic Table Lamp, which boasts an elegantly-textured spherical glass shade atop an antique brass-finished steel base.
Seth's Lounge Chair
Also in the bedroom, next to Houseplant's very retro (and very orange) Side Table Ashtray, is another West Elm piece: the Countour Mid-Century Chair. This Danish-inspired lounge chair has a classic mid-century modern look, but unfortunately, West Elm hasn't produced it in some time. Hopefully, some renewed interest will convince the brand to bring the chair out of retirement.
Seth's Pottery Stool
Finally, we've reached the studio, where guests will get the opportunity to throw pottery with Seth himself. And it looks like they'll be doing so while seated on a true mid-century icon. The stool pictured is the Aalto Stool 60, by Artek. Designed in 1933 by the legendary Alvar Aalto, the three-legged stool with the distinct "L-leg" is a cornerstone of modern Scandinavian design. And, unlike most authentic pieces of mid-century designer furniture, it's also a bargain at less than 400 bucks.
After you've finished creating your own version of Seth Rogen's Houseplant hangout at home, head on over to Airbnb on February 7 to try your luck at booking a room at the original spot, where one-night stays are priced at just $42. As part of the collaboration, Airbnb will be making a donation to Hilarity for Charity, a foundation dedicated to fighting Alzheimer's disease that was founded by Rogen and his wife, Lauren Miller Rogen.