Mike Holmes Spring Yard Maintenance Tips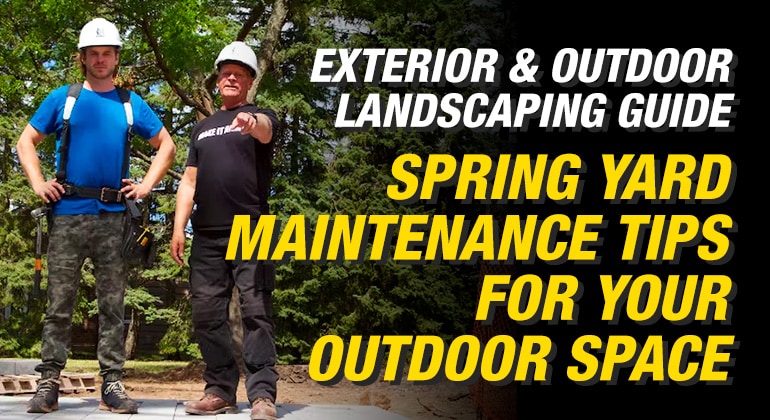 I love spending time at home in the summer (although I barely get to do so). A few years ago I redid my deck, and now I try to sit out there as much as I can when it's pleasant outside. If you have a yard, with proper care and maintenance, you CAN have a healthy, high-quality, stunning lawn and beautiful outdoor entertainment space. However, It all starts with good lawn and spring yard maintenance.
Here are some tips to help you maintain and prepare your yard this spring.
Benefits of Spring Yard Maintenance
---
If you take care of your lawn properly, it can withstand lawn-damaging pests and weeds. Your beautiful shrubs and flowers will have a better chance of fighting diseases. 
With regular maintenance and a little bit of work on your part, you CAN enjoy a lush, beautiful lawn this spring.
Landscaping plays a part in increasing your home's value. In fact, stats show that a well-maintained lawn can help increase the value of your residential property. This makes sense, doesn't it?
Your landscaping is the first thing potential home buyers see. So investing in landscaping can help increase the value of your home, making it a great investment.
Preparing for Spring Yard Maintenance
---
There are a few steps you can take to prepare your yard for the spring.
Tune up your lawn mower. Start by changing the oil, air filter, and spark plug. Remove grass clippings and dirt from the top and undercarriage.
If your mower blade has nicks or gouges, you should sharpen or replace it. You can also take your mower to a professional.
Remove dead foliage, leaves, branches, and debris out of your yard. It's important to remove debris or piles of leaves from your yard. Not doing so may lead to mould and disease and decay.
Rake out dead grass and old leaves.
Aerating your lawn. This is the process of removing plugs of soil from the lawn. This will loosen compacted soil so that water, air, and nutrients can reach the roots.
RELATED:

Improving Your Home This Spring

Protect Your Home From Spring Flooding
Checklist of necessary tools and equipment
---
Before you get started on your yard maintenance, here are some tools you should have on hand.
A garden hose with a sprinkler attachment
Closed-toe safety shoes
Hearing protection
Lawnmower
Safety Glasses
An underground irrigation system is a good idea if you have a very large yard. However, it is pretty expensive.
Safety Precautions
---
Wear hearing protection. Loud noise from power garden equipment can actually cause permanent hearing loss
You must wear closed-toe safety shoes when mowing your garden. Trust me, I've come across some horror stories about injuries because people were mowing in flip-flops. That is NOT a good idea.
Before using any equipment, make sure they are in good condition
and safety guards are in place.
Remove any toys, stones, or tools from the yard before using power equipment
Don't use any power tools that have frayed cords.
Never operate power tools during wet conditions as there is potential for electric shock.
Trimming and pruning trees and shrubs
Be  VERY careful when using ladders to prune trees, trim bushes and hedges, or clean eavestroughs. If you have trees growing too close to powerlines, call a certified utility arborist. Ask to have the trees pruned.
Cleaning gutters and downspouts
Clogged gutters can lead to serious issues with your roof. Clear your eavestroughs regularly but do it SAFELY. If your eavestrough is leaking, you can use a sealant like SikaFlex to fix the issue.
Lawn Maintenance
---
Regular irrigation and lawn care maintenance prevents topsoil from being flooded by rain or blown away by the wind. Proper moisture levels are also important to improve the look of your yard.
Here are some things you need to know:
Aeration
Simply explained, aeration means introducing small holes in your soil. This process allows air, water, and nutrients to penetrate the grassroots. This will help the roots grow deeply and you will enjoy a stronger lawn.
Overseeding
If your lawn is thin or weak, overseeding is going to work wonders. Overseeding means adding new grass seed to your lawn. This adds new grass species to your yard that requires less water and resists insects. Landscaping experts recommend doing this once a year.
Fertilization
It's important that you apply your fertilizer evenly. That's a good way of achieving that uniform green lawn.
RELATED:

Building Raised Stone Garden Beds
Weed Control
Landscapers recommend dealing with weeds in early spring. Invasive weeds tend to get worse in the summer. If you let them grow, their roots keep getting stronger. This makes it harder to pull them out.
Mowing and Edging
Don't overlook the importance of good mowing practices. Mowing is a good DIY project for you to take on. It does have an impact on how the lawn looks and how uniform it is. This is a task that needs to be done regularly.
Landscaping experts recommend mowing your lawn in the early evening. Why? The lawn is usually dry (unless it rains) and the lawn has time to recover before the next day's heat.
In the mornings, usually, your grass is damp from fog or dew. Cutting wet grass will often give you an uneven trim. Wet clippings are not good for your mower, and you may see clumps of grass if you mow while the lawn is wet.
Planting
I don't want you to plant right up against your home. Think about it. If you build a garden directly next to your home, you will be disturbing the soil directly against your foundation. This means water is more likely to leak through to your basement.
Who wants a leaky basement? No one.
RELATED:

Landscaping Tips from A Contractor

DO'S AND DON'TS OF DIY Outdoor Home Projects
Maintenance of Hardscape
---
What is hardscaping? To put it simply, hardscaping is any structure in your outdoor area that is not a plant. This means anything made out of gravel, brick, wood, pavers, or stone. Here are some tips on looking after your hardscaping:
Cleaning and sealing decks and patios
Don't let leaves and debris pile up in corners around your deck or patio. You could also use a pressure washer if you have one, but use the lowest power setting to avoid damaging the wood.
Staining a deck allows you to bring out the rich colours and textures of the wood's surface.
Here is a full article on cleaning your deck.
Power washing walkways and driveways
It's important to keep your driveway and walkways clean. Power washing can remove stubborn stains and make your driveway look new. If you don't, you may start to see algae and mould. Neglecting your driveway may also result in expensive repairs down the road.
I had algae growing on my interlocking stones, and it looked terrible. I asked a local company (H2Go Mobile) to come in and clean it off my patio and deck. They used just hot water and steam, no chemicals.
Repairing fences and gates
Winter is usually not kind to your fences and gates. Around springtime, you may find that some fence posts need repair.
I normally don't encourage DIY work around the house, but fixing a fence post CAN be a DIY project. I personally like expanding foam (instead of concrete) to repair and install fence posts. Here is a guide to fixing fence posts yourself.
MIKE'S TIP:

I don't like seeing torches in backyards. They are an open flame source. Look into smart landscape lighting for your backyard and lawn instead.
There are simple landscaping jobs that homeowners can tackle such as mowing, clearing yard waste, and planting in your planters. But it's not a bad idea to bring in a professional, especially when it comes to hardscaping.
Incorrectly laying down interlocking can create major issues. Without properly compacting the soil and gravel underneath the stone, that soil could sink, allowing water to pool – or worse, flow right toward your foundation.  A job done poorly on the outside of your home can actually cause big problems inside.
If you keep up with regular yard maintenance, you will enjoy a beautiful, lush yard this spring and summer!
READ NEXT:

Dos and Don'ts of Outdoor Projects

How To Build the BEST Outdoor Kitchen On Your Deck