Matter: the new smart home standard and supported devices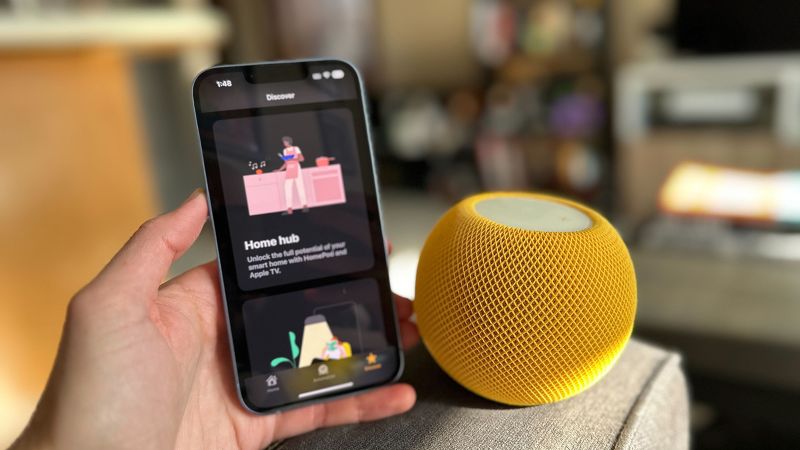 We've all been there: You're eager to add or upgrade a device in your smart home, but the options available aren't compatible with your other devices. Maybe you're an Apple partisan, and you've signed on for HomeKit. Maybe you like Amazon's Alexa or Google's offerings. Or maybe you have a mishmash of devices and a folder of controller apps on your phone.
That scenario has been holding back the advancement of much of smart home technology. Adding new devices is complicated and often confusing, and companies have tried to lock customers into their own ecosystems. But that may soon be a thing of the past with the introduction of Matter, a new universal connectivity standard which the industry says will simplify smart home setups.
Tired of checking if a device "Works With HomeKit"? Or Google Home or Alexa? These three tech giants, along with Samsung, are the major members of the Matter coalition, and they've decided that rather than lock you into their ecosystems, they can sell more smart devices if the market is bigger and more compatible.
In a way, the big companies are just meeting customers where they already are.
"If you think about the realities of smart homes, users have multiple brands in them, right?" says Mark Benson, head of Samsung's SmartThings division. "They have multiple different types of devices. That's just the reality. Very few people just have an entire smart home with products from only one company."
At its heart, Matter is a universal, underlying language that allows all your smart home devices — locks, speakers, lights, window blinds, robot vacuums, garage door openers, what-have-you — to work together regardless of the manufacturer. It runs over existing technologies already in use, such as Thread (for low-bandwidth devices like light bulbs), and Wi-Fi or Ethernet for devices like cameras or set-top streaming boxes, although this aspect of the protocol is still in development.
What all that means is that if you have an iPhone and your partner uses an Android phone, now you can use Siri, Google Assistant or whatever controller app you prefer, to control your smart home. When you buy a new device, you should be able to just plug it in and have it "just work" with the rest of your connected devices.
What makes it so simple? "It has a very consistent, always standard method to begin the setup process for new connected devices in your home, which overcomes a huge barrier to entry for many people," says Michelle Mindela-Freeman, Head of Marketing & Member Services for the Connectivity Standards Alliance, which governs and organizes the Matter standard.
There are some key specifications for Matter that take it beyond being a universal language for smart home devices. With the launch of Matter, all devices can now be controlled locally without the need for an external internet connection. If your internet goes on the fritz, you will still be able to turn your smart lights on and off, for example.
Security is also a big part of Matter, and something the FTC has been pushing to help people feel safer with all this daily connectivity. "Matter has substantially raised the bar in terms of security, including encryption of all of the messages that are sent between devices," Mindela-Freeman said. "All devices are authenticated before they can even join your home network, to say this is the device it's supposed to be. And because security is never always secure, all devices also must be upgradable so that when vulnerabilities are found, those can be corrected."
It's still a young protocol, however; it was released in October 2022, so it's actively being developed, says Mindela-Freeman. The current version, 1.0, supports a set of smart home devices with basic functions, like on/off, lock/unlock and brighten/dim. It doesn't yet support things like dynamic lighting or color scenes in smart bulbs or energy monitoring and management for smart plugs.
Three things, in addition to a Matter device like a light bulb or a doorlock: A matter "controller," a smart home platform app, and a Thread border router. It's important to know that there is a difference between a Matter controller and a Matter device.
A Matter controller is, ideally, always at home, with constant power, and connected to your home network via Wi-Fi or ethernet. It's the brains of your smart home, and it manages the technical details of making sure your devices can all talk to each other.
If you're interested in smart homes, you probably have a smart speaker, which means you may already have a Matter controller. 17 Amazon Echos, all Apple HomePods, HomePod minis and Apple TV 4Ks, Google Nest speakers, and hubs, and Samsung's Aeotec SmartThings Smart Home Hub and the SmartThings Hub v3 are all Matter controllers. Amazon's eero 6 series of mesh routers are all slated for a spring update that will make them Matter controllers.
The smart home app is probably one you already have on your phone, such as Apple's Home App (iOS), Eve's app, Google Home on Android or iOS, or Samsung's SmartThings app (available for both iOS and Android). Amazon's Alexa app only supports Matter on Android but will be updated on iOS this spring. This app is where you're going to be spending most of your time. It's how you set up your smart home, add devices, monitor and control them, set up rooms, automations and routines, and in general manage all the devices on your network.
Then there's the Thread border router. Thread is a low-power, low-latency, self-healing wireless protocol specifically designed for smart home devices. Yes, that's mouthful, but it doesn't require a central hub, and it's widely available in many, many products from companies like Nanoleaf, Eve and Wemo already.
Each Thread device on a network helps extend that network, making it robust and resistant to failure since there's no single point of failure. Matter relies heavily on Thread to make sure all your devices not only speak the same language but that they stay connected even if other devices drop off the network.
If you've got a HomePod mini, an AppleTV 4K 2nd generation or newer, one of the eero 6 series, an Amazon 4th-generation Echo speaker, a Google Nest Hub, or a Google Nest Wi-Fi, you've got a Thread border router. Apple's new 2nd Gen HomePods also support Thread and can act as a border router.
The currently supported device categories are:
• Light bulbs and light switches
• Smart plugs
• Locks
• Thermostats
• Blinds
• Motion and contact sensors
• Televisions and streaming set-top boxes
If you've got one of the devices in the first supported category, there's a good chance it already supports Matter — or it can be upgraded to do so. Firmware upgrades are starting to roll out from a number of companies, such as Eve and Nanoleaf. Unfortunately, figuring out what is a Matter device is not as user-friendly as it should be. Smart home apps often don't tell you what devices use Matter and which don't. The CSA recommends that consumers look for the Matter logo on the website for their devices, so be on the lookout for communications from vendors announcing upgrades or for in-app updates.
And if they don't support it at the moment, a number of companies have said they will update their products this year. However, at CES this past January, Matter was a big feature in many of the announced (but so far unreleased) products. Here are some of what was announced:
• Nanoleaf Elements, Lines, Shapes and Canvas lights.
• Twinkly's smart holiday lights.
• Leviton's entire line of smart plugs and switches will be upgraded this year.
• Eve's Door and Window contact sensor, Energy Smart Plug, and Motion sensor, as well as an upgrade kit for to motorize roller blinds.
• Yale's Assure Lock 2 line will get a Thread module with Matter compatibility.
• Aqara will upgrade their home hub and release a presence sensor, light strip, and smart door lock.
• GE Lighting will launch new smart lights as part of the Cync line, but existing products will not be upgraded.
• Samsung will launch a SmartThings Station smart hub that will be a Matter controller, Thread border router, and wireless charging station all in one.
• SwitchBot, which makes tiny robots that turn dials and flip switches in your home (you know, the things that aren't smarted up) will release the SwitchBot Hub 2 to bridge the gap between their Bluetooth products like their doorlock and curtain controllers.
Since Matter is a new protocol and is still evolving, there are whole categories of smart home products that don't (yet) work with Matter. These include:
• Smart security cameras (see below)
• Home security systems
• Audio streaming, such as from Sonos or Bose
With the exception of the smart security cameras, it's unclear when product categories will be supported by Matter. Home security systems have extensive insurance requirements and must meet stringent certifications. And Apple and Google, which have their own whole-home audio streaming solutions, might be reluctant to cede the advantages those features provide to their customers.
Happily, other categories are slated for spring and fall 2023 updates, and these include:
• White goods and home appliances, like refrigerators and vacuum cleaners (Spring 2023)
• Garage door openers (Fall 2023)
• Home security cameras (Fall 2023)
• Smoke and CO detectors (Fall 2023)
• Contactless motion and occupancy sensors (Fall 2023)
• Energy management and monitoring for smart plugs (Fall 2023)
Much of all of this enthusiasm around Matter depends on one thing: industry buy-in. While the big players — Apple, Amazon, Google and Samsung — have certainly added Matter across their product lines, there are hundreds of smaller companies scrambling for a piece of the smart home market — as evidenced by the number of products introduced at CES this year in January. Some, however, are still a little skeptical about whether Matter will enjoy widespread adoption or if it will become just another standard among many.
"Although people are talking about Matter, most companies I spoke to [at CES] are saying, 'Oh, yeah, we're talking about it as something we'll do if it really becomes a thing, but we're not doing it yet,'" said Alex Capecelatro, founder and CEO of Josh.ai, which has designed its own smart home platform. "My company is actually in that same boat. We're not yet integrating Matter. We're kind of in a wait-and-see pattern, seeing if it really does get adopted and if it really does sort of make things simpler."
Marja Koopmans, Director of Smart Home & Health at Amazon, is, understandably, more bullish on the protocol.
"The value that I'm looking forward to, I think, is the expansion across all of the different devices," she said. "Matter is not just another protocol for lighting. There are all kinds of device types that customers can connect to and will be able to connect through Matter. So bringing that all together, that's the near-term focus for the industry. And from there, as the protocol matures, you'll start to see more and more innovation."
Apple's workhorse smart speaker, the HomePod Mini, is a Thread router and Matter controller all in one.
Read our review
Amazon's Echo (4th gen) is the speaker to get if you're looking for an Alexa-enabled, full function Matter controller and Thread router.
Read our review
The Yale Assure Lock 2 is a full-featured replacement smart lock with a sleek, modular design that lets you buy just what you need and upgrade as you like. Matter support is coming this spring.
Read our review
A great, basic light bulb that does, well, the essentials really well. This was one of the first bulbs on the market to support both Matter and Thread.
Read our review
The Nest Learning Thermostat studies your habits and controls the temperature in your home automatically. Google says Matter compatibility is coming by Spring 2023.
Read our review