Historic homes razed in Marktown with renovation program on horizon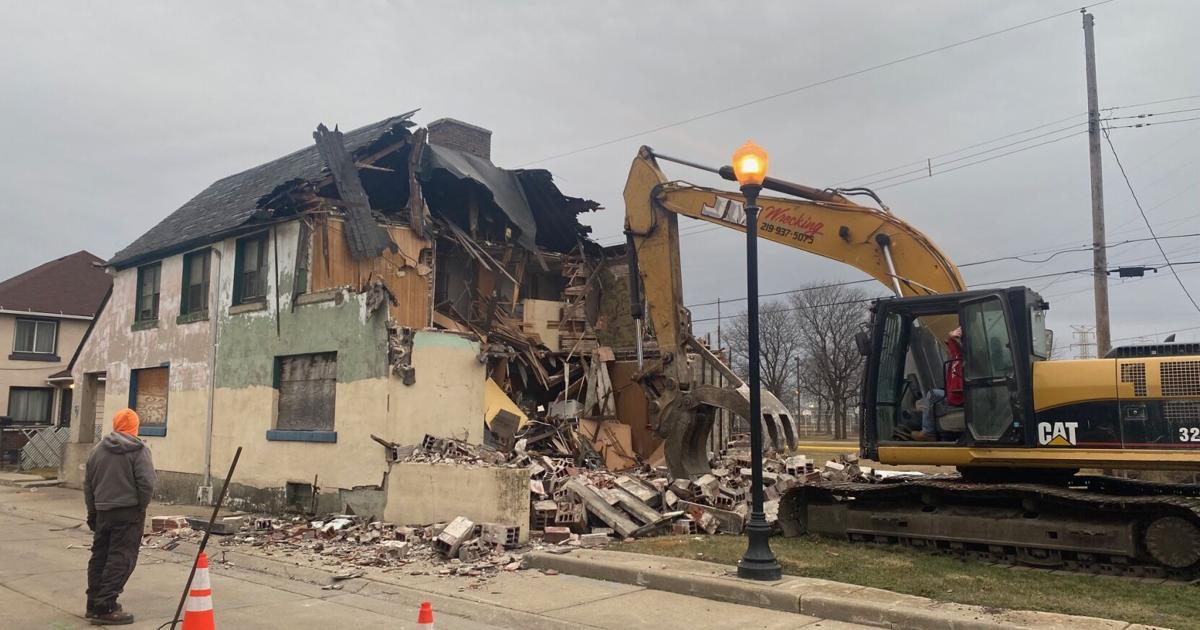 EAST CHICAGO — An excavator rumbled through the narrow streets of the Marktown planned worker housing community designed to resemble a traditional English village, cutting a path of muddy tread marks through the lawn and chomping into the gable roof duplex.
It tore away at the century-old building until nothing was left but a pile of rubble, a basement overflowing with heaping debris, crumbled brick and twisted metal.
A contractor razed two city-owned homes in the oasis of worker housing designed by the noted architect Howard Van Doren Shaw that's nestled amid vertically integrated steel mills, oil refineries and some of the heaviest industry on earth. East Chicago said the homes were deemed unsalvageable as the city is about to embark on a renovation project in which homeowners can get up to $40,000 to fix up their properties.
Residents were caught by surprise when the homes at 410 and 412 Prospect St. came down on the Martin Luther King Jr. Day holiday. They said four other houses were demolished in the last few weeks across from the community center at the corner of Spruce Avenue and Grove Street, where a sign on temporary fencing around a vast dirt lot warns people not to trespass.
"We were promised homes would be restored or renovated. Instead, they're being torn down," said Paul Myers, president of the Marktown Historic District, whom a former East Chicago mayor dubbed the "unofficial and unindicted mayor of Marktown."
"These are stable cast-concrete homes with basements. There's no reason to do this. There's a house on the corner with a hole in the roof big enough to drop my car in that they haven't re-roofed, and they're tearing down homes instead," Myers said.
The houses that were razed were long vacant. They're part of a neighborhood that's listed on the National Register of Historic Places and that was featured in Ripley's Believe It or Not, which noted it's a place where residents park on the sidewalks and walk in the streets since the village-like roads are so narrow.
In 1917, industrialist Clayton Mark built Marktown in soggy marshland just south of Lake Michigan for steelworkers at Mark Manufacturing Co., which is today part of the biggest Cleveland-Cliffs Indiana Harbor steelmaking complex. Though the businesses, bars and boarding houses shuttered over the years, the buildings remained intact, if in some cases dilapidated, until the 2010s when BP started acquiring and tearing down some of the properties in acquired in the shadow of its hulking refinery.
"These are solid fine properties, and they're tearing them down," Myers said. "These are all original buildings from the first year of construction when Marktown was built. Our neighborhood went on the National Register of Historic Places the same year as Pullman on the South Side of Chicago and after city and state preservation that was declared a National Monument and is now a federal park. That's pretty impressive. All we get here is water bills."
East Chicago's Marktown neighborhood is still of such historic note that documentary filmmakers from Lake Forest, Illinois, visited Myers on Tuesday to discuss shooting footage for a documentary on Van Doren Shaw, a distinguished architect who also designed many buildings in Chicago.
"When you lose houses, you lose the continuity and design," Myers said. "It doesn't look right. You lose the neighbor-to-neighbor proximity you had with open porches when people still walked to work at the steel mills."
Mayor Anthony Copeland said he was establishing a renovation program similar to the one at the Sunnyside neighborhood Inland Steel built as a planned community for worker houses. Residents in owner-occupied homes will be able to get up to $40,000 to fix up the exterior of their houses, in some cases up to $50,000 if they do work on awnings and other architectural features. Marktown residents will be able to start signing up in a few weeks at a public meeting with the project's consultant at the community center.
"The consultant went in a did an analysis of the whole community, and we used their guidelines to initiate the program," Copeland said. "These homes were unsalvageable. We couldn't rehab them. They were properties that were abandoned for years and years. This program will focus on owner-occupied units. We can't squander these dollars on ones that are not worthy. These are precious dollars."
The city secured $7 million in Hardest Hit funds to pursue demolitions across the city. Copeland said it was urgent to move forward to raze blighted buildings as soon as possible. 
"Time is of the essence," he said. "We have gaming dollars, but that's shrinking every month. The funding is shrinking."
The city retained Urban Design Ventures LLC as a consultant to come up with a plan to revitalize the neighborhood that will soon be unveiled at a community meeting in February. President and Principal Walter J. Haglund said that the renovation program should be able to save around 40 homes but that a few homes were too badly deteriorated to be saved.
"Basically, it's economically cost-prohibitive," he said. "There was water infiltration. Houses were stripped. Whole buildings would need to be reconstructed from the interior with new clay tile roofs, plumbing and electrical. They were unsalvageable."
Haglund said he believed the six homes that were already demolished were the only ones slated to come down in Marktown.
"The city has several properties it intends to rehab and resell," he said. "This is a rehabilitation program, not a demolition program. But not every house has structural integrity. Some have water pouring in and are warped inside."
The city is eyeing infill housing that would be designed to resemble the existing homes. However, it would likely not be built with the same building materials used a century ago — stucco, for instance, was deemed too high maintenance and too hard to work on.
"You see stucco in California," Copeland said. "You don't see stucco around here."
The hope would be to maintain the character of the neighborhood, Haglund said.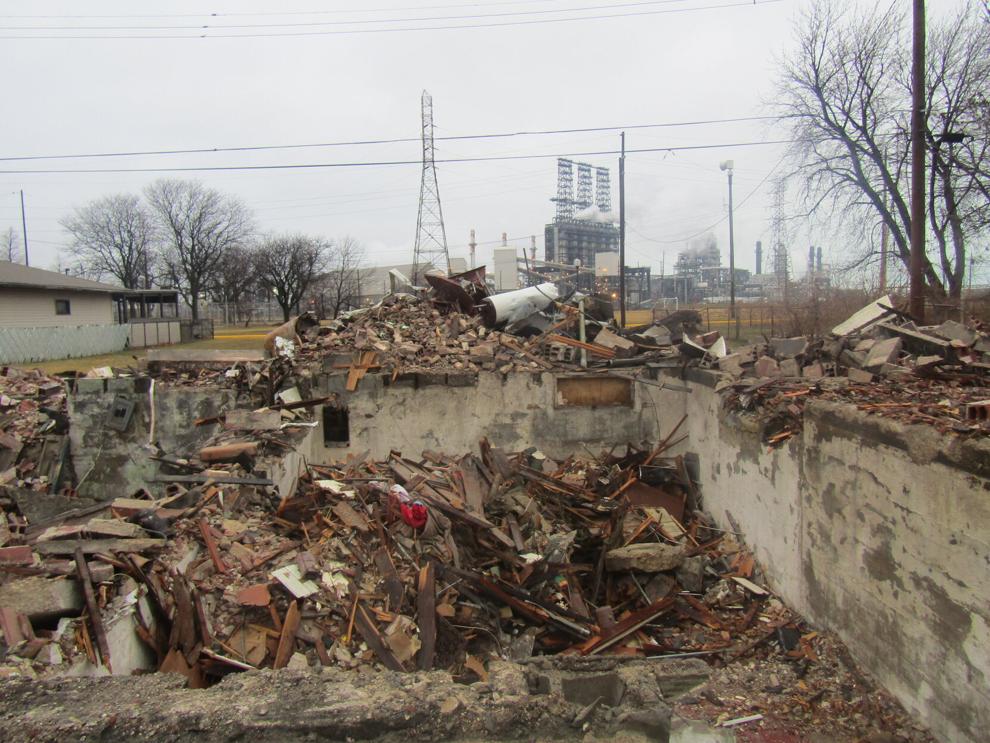 "People will be able to get funds to paint, put in new windows and doors, do roof repairs, you name it," he said. "The neighborhood should be able to keep its charm. It's pretty unique."
Residents said they were concerned and frustrated after the homes came down without warning Monday.
"I've lived here my whole life," David Rodriguez said. "What's upsetting is, if you go down East Chicago and Guthrie, they built a new community center. You go behind City Hall, they built a new community center. They took away the worker from our community center. Then you see them knocking our buildings down, our homes. What are you trying to accomplish? It seems like you're trying to push everything aside and get rid of it. That doesn't sit well with me."
He said he believed the city was tearing down homes that could still be restored and bring more life to the community.
"We have homes that should be condemned. There's a home with a hole in the roof that looks like a meteorite hit it. It's falling in," he said. "These homes are structurally sound."
His wife, Samantha Rodriguez, and Myers spent much of the day Monday calling the city and the contractor to try to get a fence put up around the demolition site so that it wouldn't pose a hazard to outdoor pets and neighborhood kids who were off school.
"We're not part of the East Chicago everyone sees. A lot of people don't know we're back here unless they drive back here," she said. "What are you doing for the residents who are out here?"
It's a neighborhood where families have lived for generations.
"My husband is a lifelong resident," she said. "He is three generations here. His mom still lives here. Some of his siblings still live here. It's generations and generations, and it's getting lost. They're wiping away the history."
She said Marktown should be celebrated as a historic site, such as by bringing school kids out for field trips to learn more about the city's storied past as the "Workshop of the World."
"It's the more houses we knock down, the less we have to be out there, the less police presence we have to have out there," she said. "They deem this neighborhood as an eyesore and as nothing. I'm a college graduate with a master's degree. My husband is a steelworker for 12 years. My brother-in-law across the street is a college graduate who works for NIPSCO. There's a lot of hard-working families in this community. The reason they stay is the longevity and the history of the community. We're normal people. We have normal lives. We're not people who don't care about themselves or their well-being. We want the same respect others get and we're not getting it."