Handyman Hints: Leaving outdoor lumber unprotected is not an option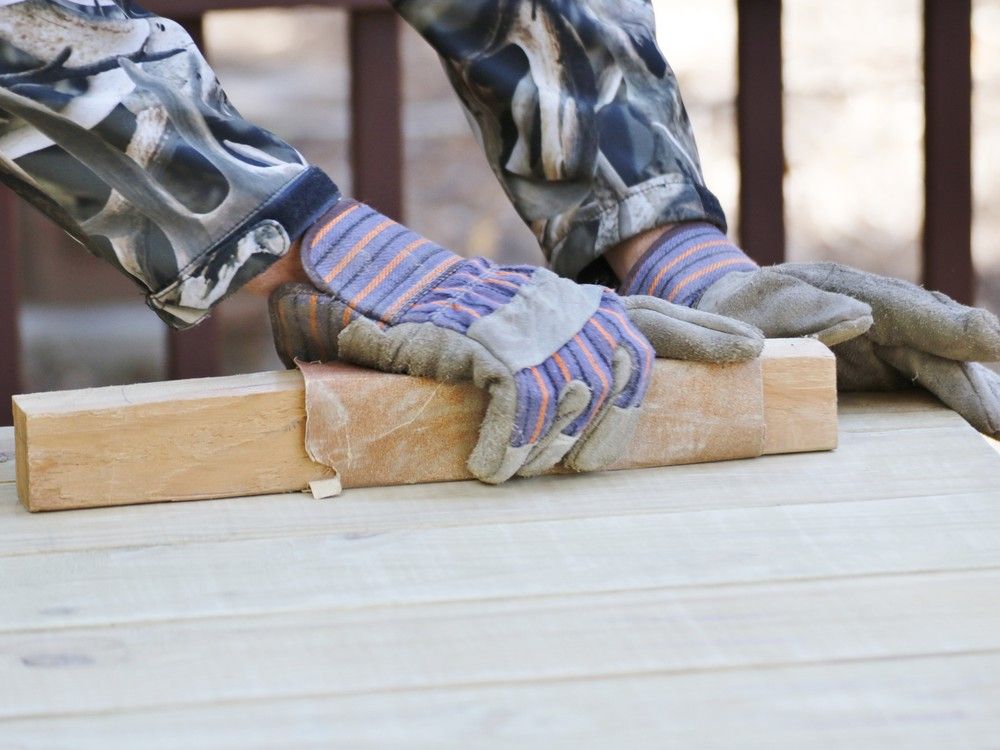 Article content
Some homeowners believe they have the option of staining or not staining their treated-lumber decking or fence panels.
Article content
Actually, the only options available to homeowners when it comes to real-wood decking and fencing, whether it be treated lumber or cedar, are clear coats, semi-transparent and opaque stains, or paint. Not staining or not painting isn't so much an option as it is a choice. That's because the decision to do nothing, or simply leave your decking lumber fend for itself, hardly qualifies as an option.
Article content
Basically, there's no good end in sight to leaving your wood weather through the elements. No matter what the treatment process, wood left outside will turn grey, start to crack, warp, and then splinter.
What if a homeowner desires that silver-grey hue weathered wood gets after a year or two of exposure? Then I would suggest investing in a silver-coloured type of semi-transparent stain, applied in year one.
Article content
Is there a chance my treated lumber or cedar won't weather so badly, maybe not split or crack, and only splinter a little bit over the years? The odds of success are about as likely as the Toronto Maple Leafs and Montreal Canadiens meeting in the Stanley Cup final next spring. So no, not a chance, not a hope in hell, and if there's one thing the last 2,000 years of wood construction has taught us, it is unprotected wood left to weather the effects of moisture, cold, and sunlight will be doomed to failure.
As a result, with that not-so-encouraging statistic facing every treated-lumber deck owner, let's examine our options.
Now, the pessimistic homeowner may question the validity of a protective sealant because history has also proven deck stains and paints have the tendency to peel or wear off quickly, leaving the homeowner with a deck or fence that requires re-coating every year or two— and, they'd be right.
Article content
However, leaving your decking or fencing lumber unprotected can't be the option.
Handyman Hints: Shopping for composite decking and watermelons

Handyman Hints: Choosing who your go-to people are

HANDYMAN HINTS: Forming attachments that last forever
All you have to do is take the 'good, bad, and the ugly' fencing and deck tour (check to see if your local tourism bureau offers this enlightening venture) of your local neighborhood to witness the general state of past and present real-wood projects. Generally, the fences installed by those homeowners who have stained their investments appear somewhere in between pretty good and beautiful, while the fences installed by subdivision contractors, that have seen zero care, look kind of horrible.
Article content
So, with sealing your fence or deck being the only real option available to homeowners, let's look at how to avoid being one of those peeling-deck statistics. The best way to avoid the experience of your stain or paint peeling is to first prepare the surface of the lumber by sanding with an 80-grit paper.
Yes, there are deck washes available, which basically rid your deck's surface of grease and stains – definitely a good thing – but there's no better way to prepare wood than by sanding. Sanding opens the pores of the wood and allows the stain to get a stronghold by sinking into the wood's fibre.
Don't pressure wash lumber. Pressure washers were originally developed to clean concrete and steel, two pretty tough surfaces. It stands to reason they'd be really effective at cleaning a soft surface such as cedar, spruce, or pine, which is what constitutes most treated lumber. Unfortunately, pressure washing is a little too effective, with the surface fibres being ultimately destroyed, and now more vulnerable to water absorption.
Plus, you've now infused your decking plank or fence panel with water, and a soaked plank of wood is not the conditions you want before staining.
So, and I realize it's not easy, we sand our decking planks. Belt sanders are an OK choice, but they're aggressive, can gouge the wood, and not so effective if the planks are slightly cupped.
Otherwise, electric palm sanders, pole sanders, or good old-fashioned elbow grease are the best mechanisms for sanding.
More on deck prepping next week.