Best smart home devices to buy in 2022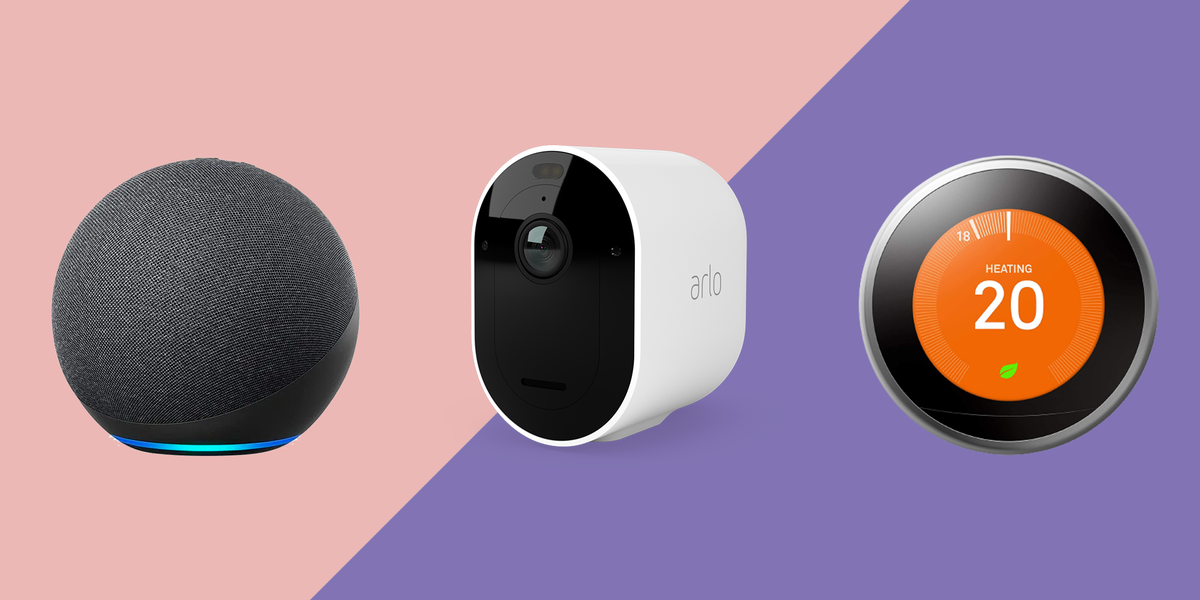 Walk into any room of your home and there's a good chance that it can be made smarter. Your TV can be turned on with your voice, you can monitor your latest Amazon delivery with a video doorbell, and view its feed from a smart display in your kitchen. Going on holiday? Why not invest in an internet-connected smart alarm system and security camera to protect your property remotely? Staying in? Fire up the streaming stick to watch the latest shows and movies, and when the night is done, use a routine to dim all the lights and play some relaxing music to help you drift off to sleep.
The best smart home devices add convenience to your everyday life. Smart thermostats can help you monitor energy usage, smart locks let you operate doors via a mobile app, smart bulbs allow you to set the ambience in your rooms and smart plugs will connect traditional appliances like kettles, lamps and older TVs to your home wifi. Tying it together are the major voice assistants – Amazon Alexa, Google Assistant and Apple Siri – that power the devices and let you control them with quick commands.
We've tested every type of smart home tech, and in this roundup, we're bringing you the best devices you can buy in 2022. We'll focus on products that offer the most compatibility – so they'll work with multiple platforms – and feature gadgets at a range of prices. Still not sure where how to create a smart home? Scroll down and, under our recommendations, you'll find out how to start a smart home for under £100.
Best smart speaker
amazon.co.uk
Amazon Echo (4th generation)
Best smart plug
amazon.co.uk
Meross Mini Smart Plug
Best smart light bulb
amazon.co.uk
WiZ Colour smart bulb
Best streaming device
amazon.co.uk
Roku Streaming Stick 4K
Best smart alarm
amazon.co.uk
Yale Intruder IA-320G Sync Smart Home Alarm (6-piece)
Best wifi security camera
amazon.co.uk
Arlo Pro 4 Smart Security Camera
Best indoor security camera
amazon.co.uk
Arlo Essential Indoor Security System
Best video doorbell
amazon.co.uk
Google Nest Doorbell (Battery)
£179.99
£110.61 (39% off)
Best smart thermostat
argos.co.uk
Google Nest Learning Thermostat (3rd gen)
Best mesh wifi
amazon.co.uk
Google Wifi Pro
Best smart lock
amazon.co.uk
Ultion Nuki Smart Lock
Are smart home devices worth it?
Yes, smart gadgets are a great way of simplifying your everyday life. Using your voice and touch controls, these internet-connected gadgets let you turn on lights, set the thermostat temperature, check who is at the front door, listen to music, set reminders, get daily news briefings, stream the latest movies or TV shows, and monitor surveillance systems.
You can set up routines to control how your devices perform in collaboration with each other (like turning off the all lights when you say "good night" or changing the brightness of your living room bulbs when the TV is on), plus they have separate mobile apps so you can get notifications and alerts while on-the-go. Smart home devices are ideal for pure convenience, as they give you much more control than traditional home devices, and let you control them remotely.
How do I turn my home into a smart home on a budget?
While it's tempting to create a vast futuristic voice-controlled utopia, it's probably best to start on a smaller scale. Good news: you don't have to spend a fortune to get a taste of a smart home, and it's easy to get a basic setup for under £100. For that, you'll get a smart display or speaker, plus a couple of smart light bulbs, a smart plug and a video doorbell. The Echo Show 5 is regularly discounted to under £40 and the Echo Dot to under £30, while TP-Link Tapo bulb two-pack cost £19.99. A duo of Meross smart plugs is under £20 and Amazon's budget Blink video doorbell is often on offer for around £35. If we only had £100 right now, here's how we could spend it to get a smart home on a budget:
• Echo Dot 5: £26.99
• Blink video doorbell: £34.99
• Meross 2-pack smart plugs: £17.99
• TP-Link smart bulbs x2: £17.98
What happens in a smart home when the internet goes out?
Most smart devices need a consistent wifi connection to work, and if your internet does go down there's a good chance your devices will become much less smart – but not totally unusable. Each product is different, but usually, features that rely on a constant cloud or wifi connection for features will be disrupted – like a voice assistant checking the weather, a security camera letting you access live footage or your bulbs changing colour via an app.
But in many cases, the product will still work – just at a basic level. A smart thermostat will still let you change settings manually, a smart lock will also be able to connect to your phone via Bluetooth (or in some cases use a physical key as a backup) and a speaker will still let you set alarms and timers. Your bulbs will still turn on, but only manually.
Unlike the other major platforms, Apple's HomeKit offers local control via a dedicated hub (this can be an Apple TV, HomePod Mini or an iPad), meaning it doesn't always rely on a constant cloud connection. As a result, your HomeKit smart devices can continue to work if you suffer an unexpected outage, although just like the other platforms Siri voice assistance will be disrupted if the wifi in your home drops.