7 contemporary furniture design trends to look for in 2023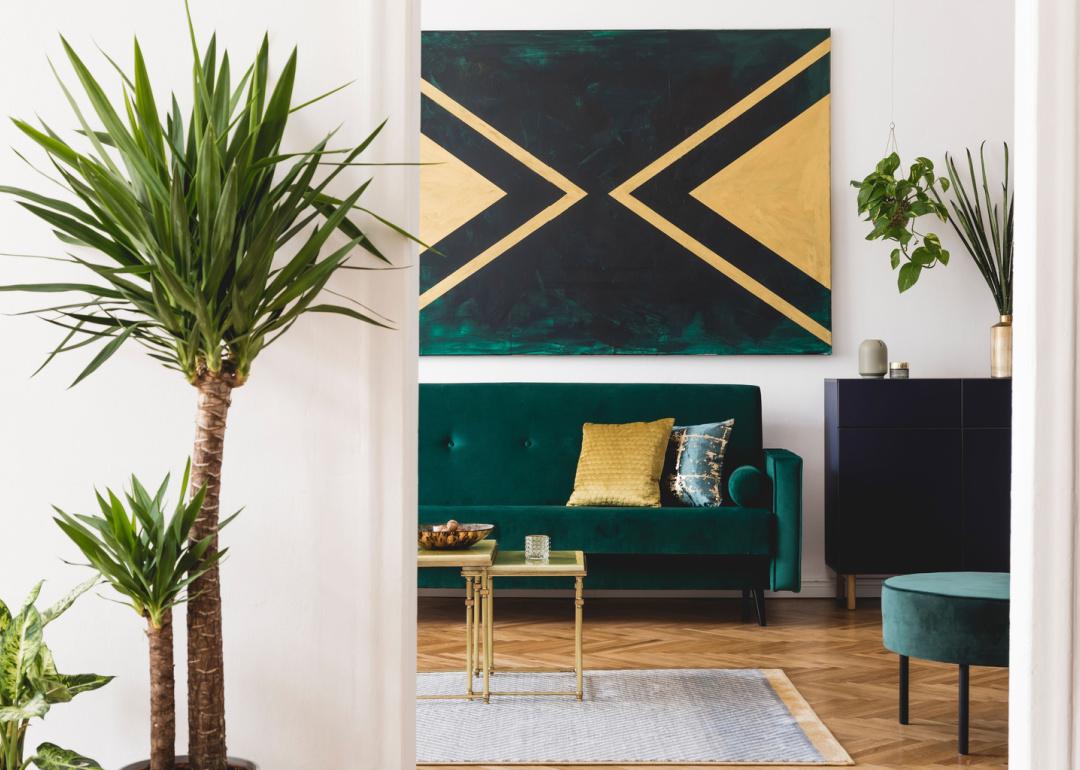 Followtheflow // Shutterstock
7 contemporary furniture design trends to look for in 2023
Modern interior with green velvet sofa and gold accents.
Well-done furniture design is not simply alluring aesthetics, rather, it provides functionality while accentuating tasteful choices, adding elegance and beauty to a space. Furniture design has been a home staple seen as far back as the Neolithic era, or New Stone Age. Around 3100–2500 B.C., the people of Skara Brae built cupboards, dressers, and beds for their homes in the area now known as Orkney, Scotland. Whether functional, stylish, or a statement, furniture remains a necessity in modern-day society and a tool of expression for interior designers and buyers looking to elevate their spaces.
Contemporary furniture design is characterized by current trends and popular motifs, as opposed to classical or traditional styles. It often borrows from other decades and adopts the styles of various design eras.
Lazzoni Modern Furniture compiled seven trends driving furniture styles in early 2023 using research across the internet, including from Architectural Digest, Forbes, Vogue, and The Washington Post. Many trends show an increased number of consumers prioritizing ethical and sustainable practices when purchasing furniture and also returning to nostalgic designs from decades past, utilizing bold patterns and geometric shapes. Popular colors demonstrate a return to nature, with earthy and natural tones dominating color trends and natural resources like wood and cement used in design.
Continue reading to learn more about the coming trends.
---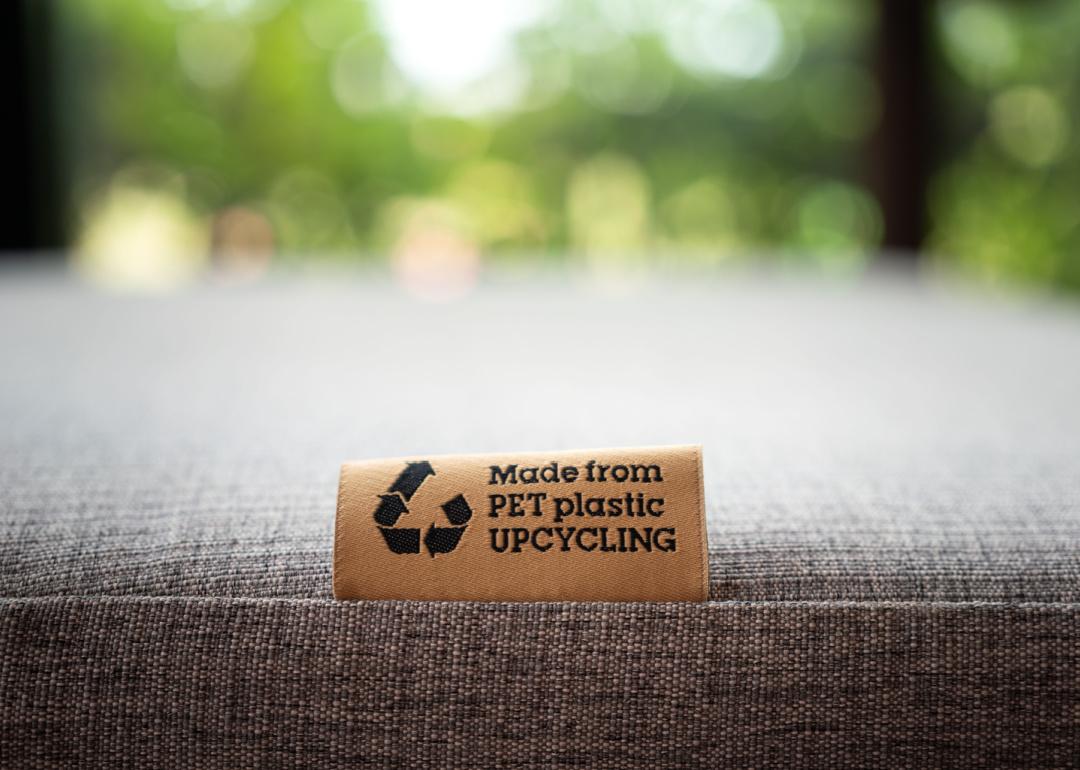 Nattawit Khomsanit // Shutterstock
Sustainability standards go up a notch
'PET Plastic upcycling' product label tag on the sofa
Eco-awareness and sustainability have become popular trends in the design industry as climate change continues to challenge contemporary life. Popular companies such as Macy's, Crate & Barrel, and Wayfair committed to a higher standard of sustainability practices in 2022 as eco-friendly design has proven to be a lucrative industry. Grand View Research's findings in 2022 valued the eco-friendly furniture market at $43.26 billion, with an expected annual growth rate of 8.6% until 2030.
If environmental sustainability is a priority, The Washington Post recommends buyers research the ethical and sustainable practices of companies before purchasing. Websites like Minted Space, Wood Furniture Scorecard, and Spot can help buyers better understand the way their products are made and access furniture made with eco-conscious practices. Research can also help to differentiate between eco-focused brands and greenwashing, a tactic used by companies to misrepresent themselves as environmentally responsible, using common phrases such as "made with recycled content," "all-natural," and "LEED-certified."
---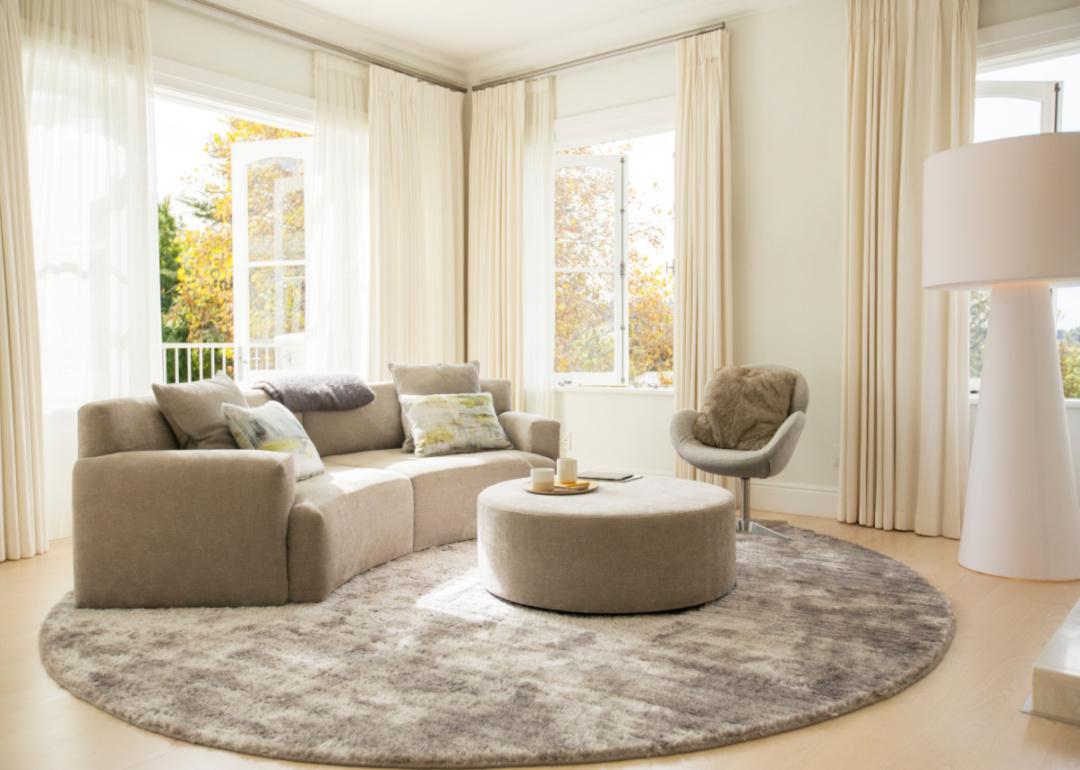 KOTOIMAGES // Shutterstock
Curves are making a comeback
Living room with beige, curved sofa and round rug.
Curved furniture hit the mainstream in the 1970s and continued in popularity throughout the '80s, a welcome change from the hard edges of Bauhaus. This pull of the sensuous is best seen in Vladimir Kagan's serpentine sofa, which debuted in 1950. Its curved, snakelike shape was expressly made to be a highlight of a room, placed away from corners and walls, leaving owners precious space to display artwork. The sofa revolutionized room arrangements and earned Kagan a place in design history.
Kagan wasn't the only designer to take advantage of the human pull to the soft and sensual. Frank Gehry's wiggle side chair, Ettore Sottsass' Synthesis 45 office side chair, and David Mellor's Abacus 700 chair are examples of how designers introduced curves in their designs, which created a more welcoming space. Expect to see furniture with softer and rounder edges, adding elegance and versatility to their spaces.
---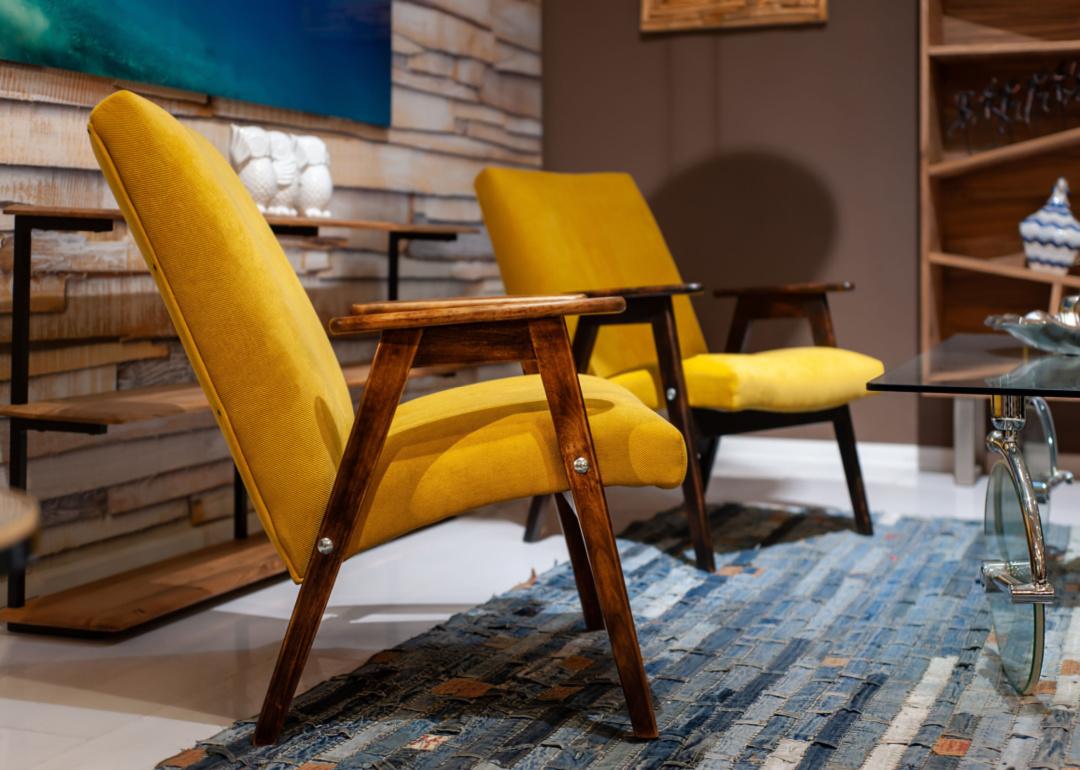 Denys R // Shutterstock
1970s nostalgia combats an angst-ridden pandemic age
Yellow armchairs from the 70s in a living room.
Curved furniture isn't the only trend making its way back from the 1970s. Fashion and design have seen a resurgence in the popular tones and styles of the decade updated for the 2020s. Trend followers can breathe a sigh of relief. Most garish aspects of 1970s design will likely stay in the past as designers focus on the decade's finer aesthetics, such as bold geometric designs, a return to nature, browns and warm tones, and highlighting materials like wood and concrete.
The resurgence of '70s design may be due in part to the coronavirus pandemic, according to 1stDibs Editorial Director Anthony Barzilay Freund, who theorized that as more people were working from home, there was an increased need for a relaxed environment. The warm color schemes, wide spaces, and sunken spaces of the 1970s were perfect comforting cues to combat the angst and anxiety of this pandemic age.
---

Followtheflow // Shutterstock
Art deco touches add a hint of luxury
Green living room with velvet sofa and round gold coffee table.
Art deco remains a signature style in design with roots dating back to 1900s France and surged in popularity across the Atlantic during the 1920s and '30s. Short for "arts decoratifs," it received its name in 1925, when the design was first exhibited at the Exposition Internationale des Arts Décoratifs et Industriels Modernes.
The style emphasizes geometric shapes, crisp edges, repetition, and strong linear designs such as chevrons or zigzags, which have attracted buyers between 20-40 especially, according to a 2021 annual survey by Asheford Institute of Antiques. Rather than go all out art deco, however, many have chosen to use it sparingly, adding a hint of opulence and glamour at strategic points in a room with metallic accents, geometric lines, and velvet textures.
"These days, we probably wouldn't do a whole authentic art deco interior," designer Jessica Lagrange told Architectural Digest. "But we like to use bits and pieces, which can be very timeless, and use them in a contemporary setting."
---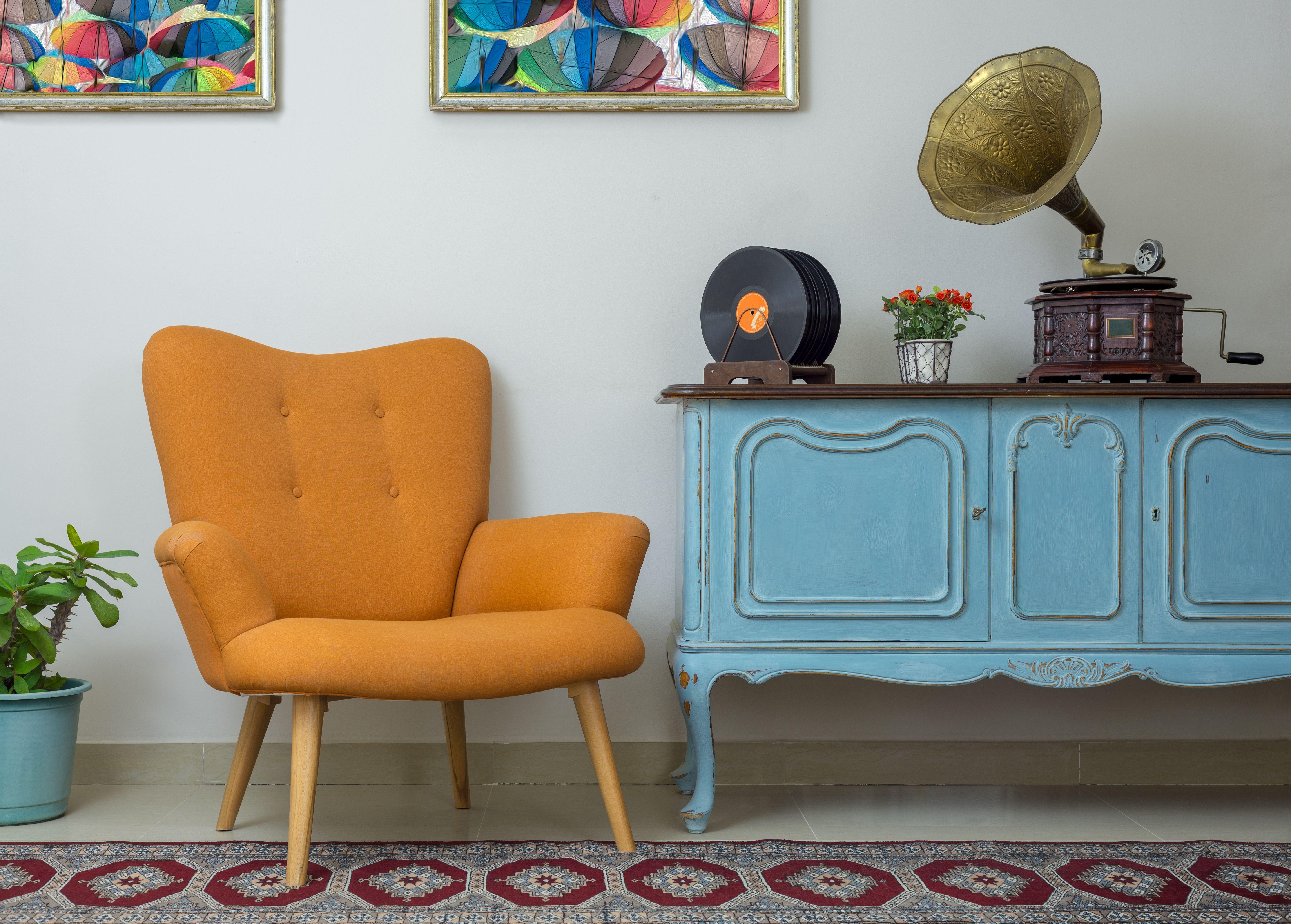 Halit Sadik // Shutterstock
Vintage thrifting, an increasingly ethical and environmental choice
Retro orange armchair, vintage wooden light blue sideboard and old phonograph.
Furniture production can be easily compared to the fast fashion industry, where designs are easily purchased and just as quickly discarded for new, trendier pieces. The Environmental Protection Agency found that discarded furniture accounts for 12.1 million tons of municipal solid waste in American landfills in 2018—more than five times what it was in 1960.
As the COVID-19 pandemic upended supply chains, however, online secondhand furniture shops have seen an uptick in business, aided by more people redesigning their living spaces to fit a work-from-home lifestyle. The Washington Post reports that Chairish business was up 42% from 2020 and 2021, while in 2021, the searches for vintage or antique couches on Etsy increased 126% from 2019.
Choosing to buy vintage furniture leads to many positive outcomes. It can add statement pieces from history to a living space while saving them from landfills that continue to grow. It also often helps support small, independent businesses, as Etsy's trend expert, Dayna Isom Johnson, pointed out to the Post.
---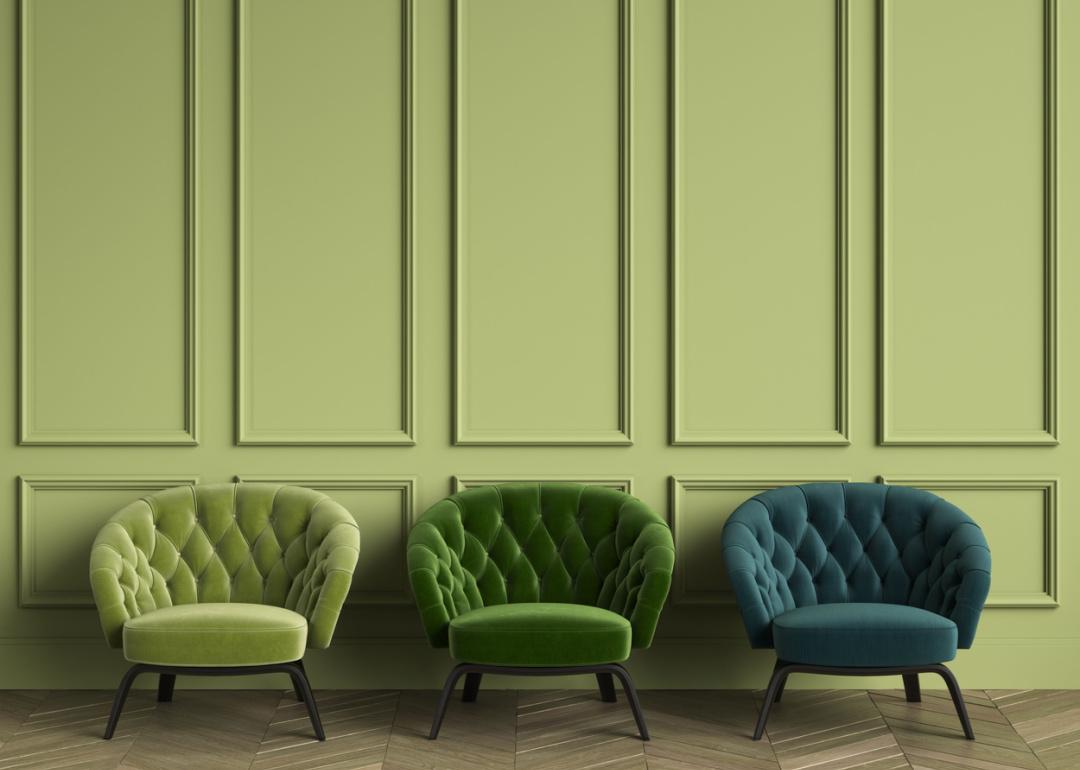 remuhin // Shutterstock
Greenery and green colors shore up mental and physical well-being
Three tufted green armchairs in classic interior with cozy space.
Color psychology explores the mind and body's physiological responses to color and suggests colors are able to induce psychological reactions and affect mood and emotion. While the scientific validity of color psychology is often questioned, color remains a powerful tool in creating a space catered to one's mental and physical well-being.
Green has become a huge trend in home design, as more and more earthy and natural tones make their way into interior spaces. Sometimes, customers are quite literally bringing greenery indoors. The flower and ornamental plant industry, valued at $27.2 billion in 2021, is expected to reach $45.07 billion by 2029.
Those looking to bring green into their space—whether to complement their indoor jungle or to perhaps make up for their lack of a green thumb—can explore varying hues of green in their furnishings instead, from muted to lush tones. The color is easy on the human eye and is charming in its duality being both peaceful and vibrant simultaneously.
---

Halfpoint // Shutterstock
Biophilic design connects consumers to nature
Modern cozy living room with plants in winter.
Biophilic design is a return to nature in a modern environment, recognizing the human innate need to connect with nature to a constructed space or structure. "I think we become more aware of our very brittle relationship with nature, we will try to acknowledge it more and more," design agency Alexander & Co. told Harper's Bazaar Australia.
Biophilic touches can be as simple as more natural lighting via thoughtful window placement and alfresco dining to the more ambitious outdoor shower. Common materials in biophilic furniture design often make use of rattan, wood, cork, stone, bamboo, and linen, all naturally sourced materials. Natural shapes, colors, and patterns imitate environments found in nature, such as rock erosion, and moving water could also be added to evoke nature at home.
This story originally appeared on Lazzoni Modern Furniture and was produced and
distributed in partnership with Stacker Studio.
---