25 Most Popular Kitchen Design Trends For 2023, According To Experts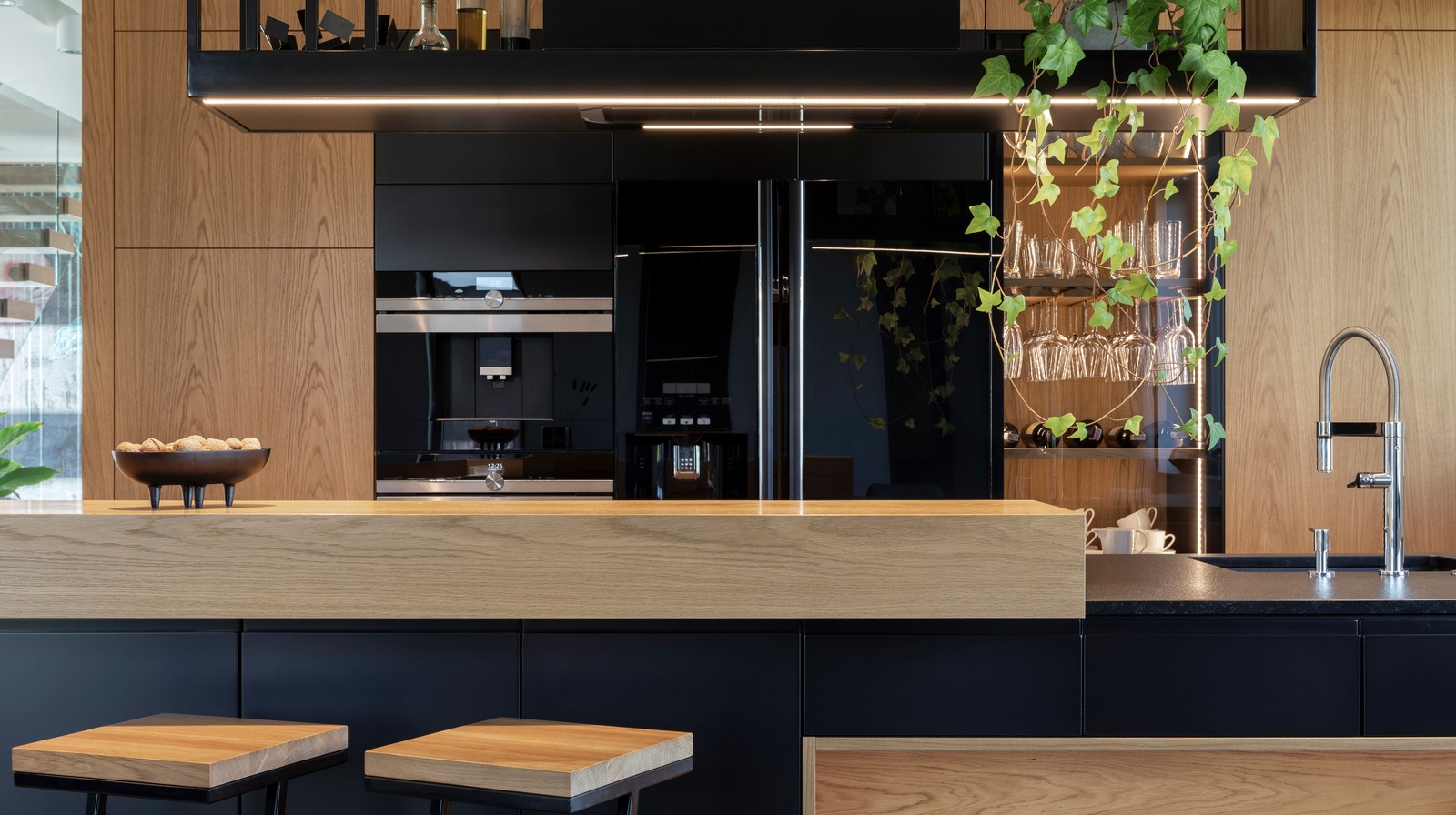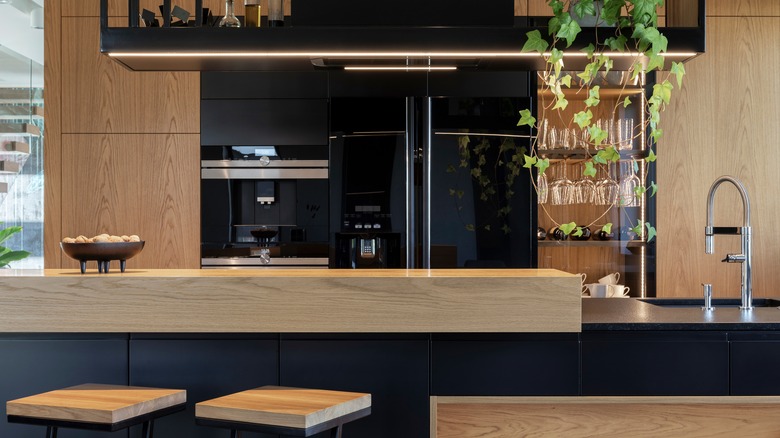 Followtheflow/Shutterstock
Without the kitchen, there is no home. GoBankingRates reports that the kitchen is viewed as the most crucial space in the house, and the room that adds the best amount of value upon remodel. Yes, in 2023, the epicenter of cooking and conversation is undergoing some new and exciting developments. As the pandemic winds down, our mindsets around cleanliness, relaxation, and safety are evolving.
Although whites and neutrals will have their place, 2023 represents a new age of invigoration and exploration. The kitchen is embracing color, eclectic styles, and a sense of personal authenticity previously lacking in home design of the last five years. According to Angi, the average homeowner in America spends around $25,000 on a kitchen remodel. So if you're feeling uninspired by your current kitchen and have the capital, there are boundless directions you can go in to revitalize the space. In an exclusive interview with House Digest, experts Cinque Cerra-Saunders, Sarah Bowen, Sara Mosele, Nikki Klugh, Melissa Fields, and Alexis Peters broke down 25 kitchen trends to expect in 2023.
1. Mediterranean design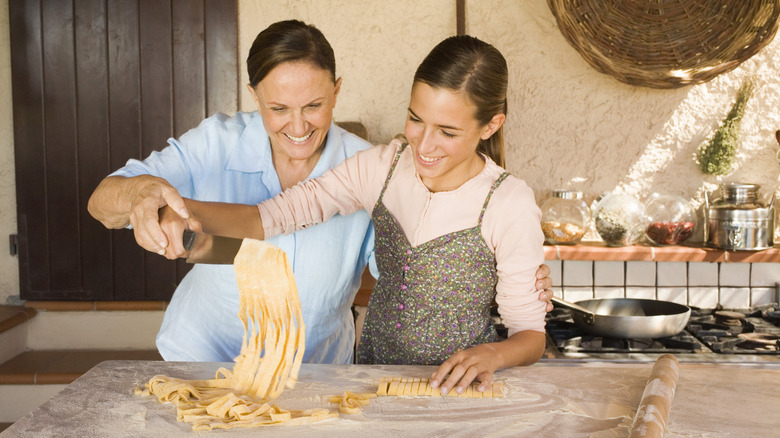 Jupiterimages/Getty Images
Interior designer Cinque Cerra-Saunders explains, "When it comes to kitchens, I'm excited to see the Mediterranean influence trend continue to grow. It includes arches, textured walls, character-filled wood, and stone — a pastiche of Moroccan, Greek, Italian, and Spanish influences." Although the Tuscan kitchen of the early 2000s became tired from its overly dark cabinets and countertop finishes, this new iteration of Mediterranean will balance light and dark in a different way.
2. Sustainable materials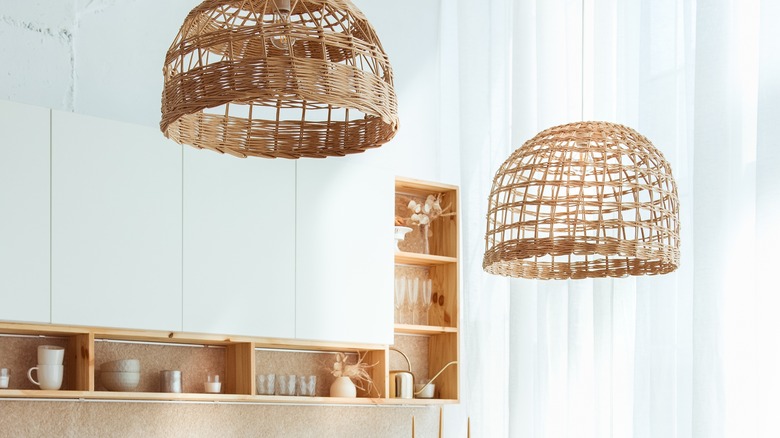 Iren_Geo/Shutterstock
Sustainability continues to be an emerging topic of discussion, and is making its way into home design and renovation. According to interior designer Melissa Fields, "Homeowners are a lot more conscious about the materials they're selecting for their kitchen renovation or remodel. Materials that will last and be kinder to our planet will be the premier choices such as, recycled glass, Dekton, Silestone and porcelain."
3. Pendant lighting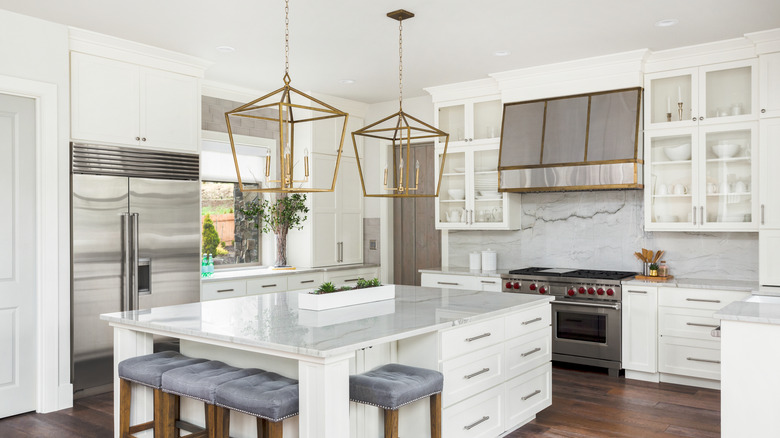 Justin_Krug/Shutterstock
Industrial, sleek, but still able to illustrate intrigue, pendant lighting will continue to be prevalent in kitchen design going into 2023. Whether it be a light and bright kitchen, a refurbished historical space, these are versatile and work in a number of different styles.
4. Rounded islands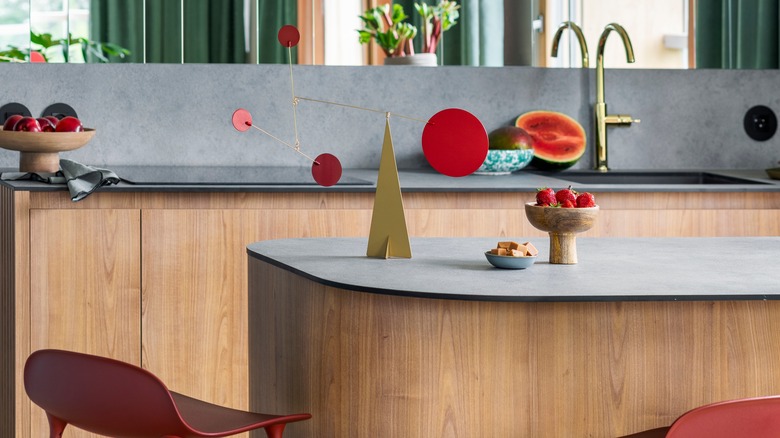 Followtheflow/Shutterstock
In an age where color is being re-emphasized in the kitchen, a sense of relaxation will come from other design elements like shape. Thus, rounded corners are a great option for achieving this result. Interior designer Sarah Bowen notes that "the smooth edges of rounded islands are safer when you have small children. Rounded islands also have a soothing, calming effect on a kitchen, which can be just what you need to counteract the sharp lines of a contemporary kitchen." 
5. Irregular tile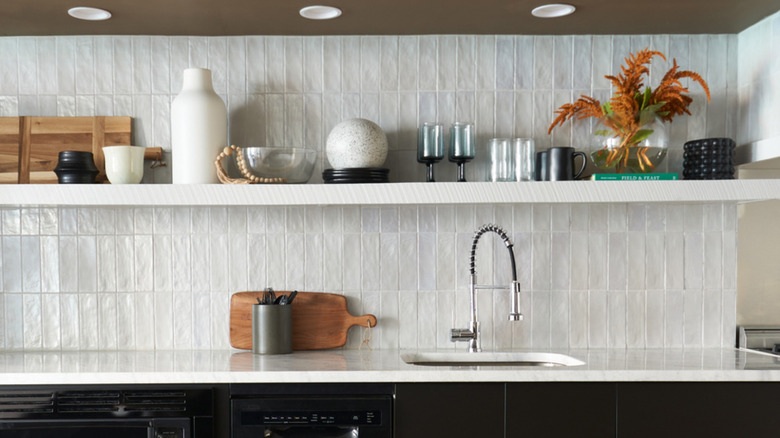 Cinque Cerra-Saunders/Studio Lithe
Creating dimension, intrigue, and something less sterile-looking will be critical to revitalizing the kitchen space. Cinque Cerra-Saunders argues, "Hand-hewn, imperfect shapes that have movement and variation of color when installed will be in. It's all about the artisanal, crafted, lived-in look." Even something more subtle like the design above shows those human imperfections, slight variations of color that make it feel collected and cleanly lived-in.
6. Butler's pantries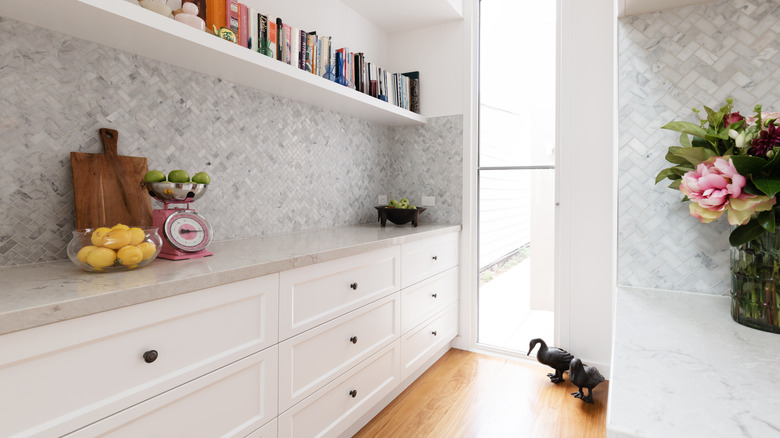 Jodie Johnson/Shutterstock
The utility and longevity of a butler's pantry cannot be understated. It's a great addition for a foodie, and an increasingly popular feature for homeowners that relish in the ritual of hosting. Interior designer Nikki Klugh endorses this trend (for 2023), saying, "I love concealing a butler's pantry that is an entire room of its own. One hidden behind custom cabinetry with a surprise entrance is especially fun when you have a large family or host large gatherings."
7. Farmhouse kitchens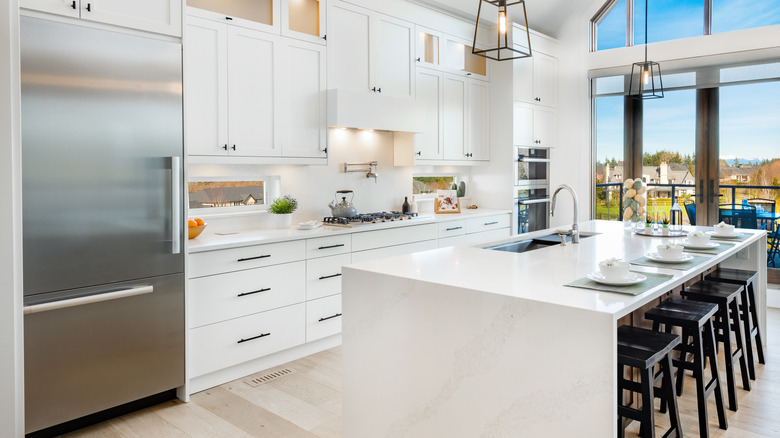 Sheila Say/Shutterstock
Interior designer Sara Mosele defends the longevity of the farmhouse kitchen, insisting, "A farmhouse kitchen is the heart of the house where the family gathers to cook together. A center island is the focal point and gathering place for lively meals with family and friends. Warm and visually pleasing, the farmhouse kitchen is where aromas evoke feelings of well-being and good times." The farmhouse style is white with warm tones, which is always a great starting point for any kitchen. It's a classic look, and one that will likely endure.
8. Mesh materials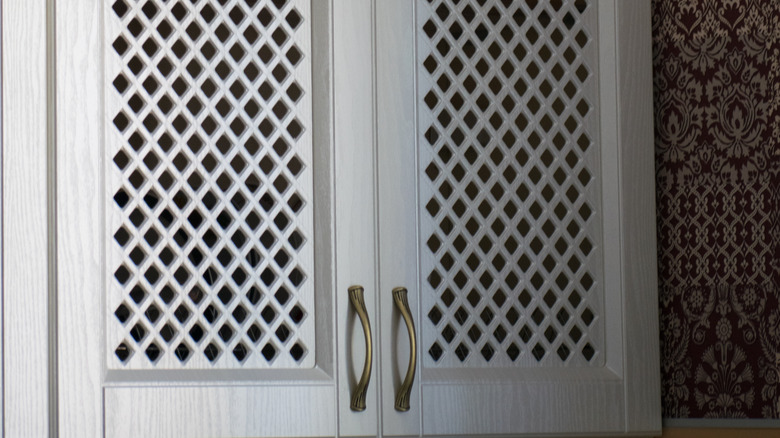 Andrei Lavr/Shutterstock
This is a particularly unique design choice, as it can convey a sense of history or a vintage quality in a French chateau or Mediterranean villa, and also offer a striking contrast in a Soho loft. Sarah Bowen outlines the utility and intrigue of mesh cabinetry: "Mesh cabinetry provides a middle ground between closed cabinets and open shelving, offering a sneak peek at what's inside without open shelving's cleaning requirements. Mesh works best in kitchens with an industrial or rustic style or traditional if you go for an antique-looking brass mesh against navy blue cabinets."
9. Warm tones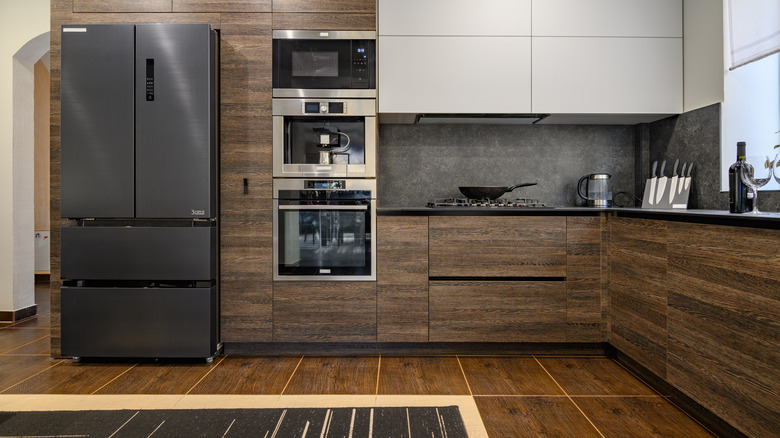 Serghei Starus/Shutterstock
Warm and inviting tones will combine and work harmoniously in varying shades of orange, red, cooper, brown, and beyond. Nikki Klugh suggests to "add warm, natural wood tones to keep popular cool colors from making your home feel stark and uninviting. It can be in the form of cabinetry, flooring, or simply in the accessories and nearby breakfast room furnishings."
10. Next level spice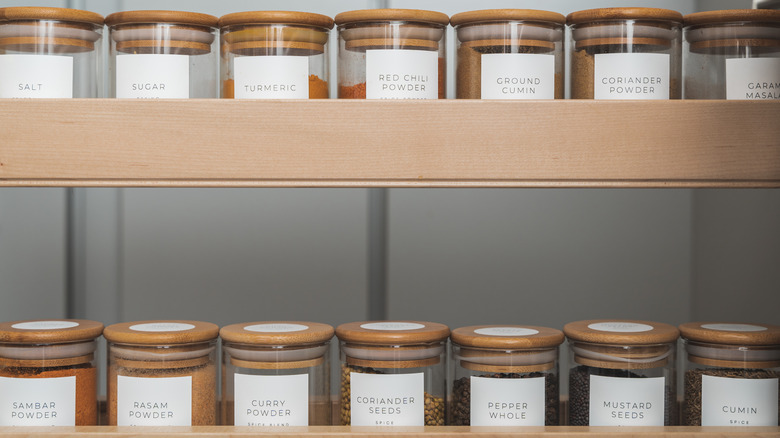 Angelica Pasquali/Shutterstock
As homeowners continue to learn more about and copy the sensibilities of professional chef kitchens, expect foodies to be bringing the heat with professional spice racks. It's aesthetically pleasing and provides the visitor personal insight into the literal tastes of the owner.
11. Vertical or horizontal stack bond (aligned) installations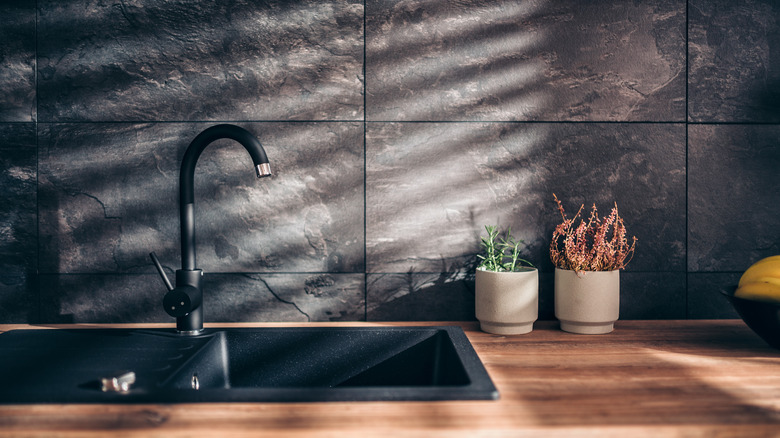 Kerkez/Getty Images
"Brick (or offset) installations will always be around, but aligned kitchen backsplashes will feel exciting and au courant" in 2023, explains Cinque Cerra-Saunders. This makes sense, as aligned backsplashes with a vertical sensibility always instill a sense of order, height, and scale in a room.
12. Moodier colors mixed with neutrals and earth tones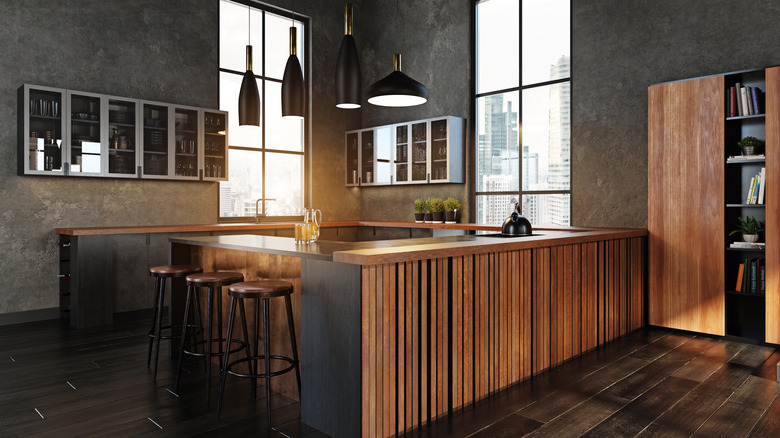 Vicnt/Getty Images
Black and brown can go together. Wood paneling and charcoal tones pair wonderfully. Yes, moodier kitchens are coming back, but not the overly brown and monotonous feelings of Tuscan kitchens in the early 200s. As interior designer Melissa Fields points out, "People are still longing to be connected to the outdoors in some way (think Biophilic design). Although, we have seen more lighter, earth tone colors since the pandemic, darker, richer colors are coming onto the scene. This gives homes a feeling of warmth and coziness while blending the organic and natural."
13. Funky appliances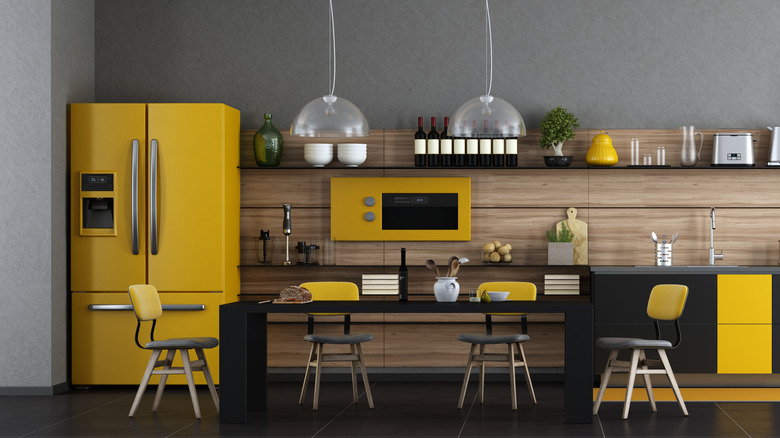 Archideaphoto/Getty Images
Pops of color often show up in towels, backsplashes, and furniture, but the revival of retro sensibilities will create new opportunities. Appliances, specifically, have primarily remained in the stainless steel palettes for the better part of the last decade. But like white kitchens, this too is changing. Color and appliances are coming back, and it's a unique detail some might overlook where a different flavor can be brought into the space.
14. Return of wallpaper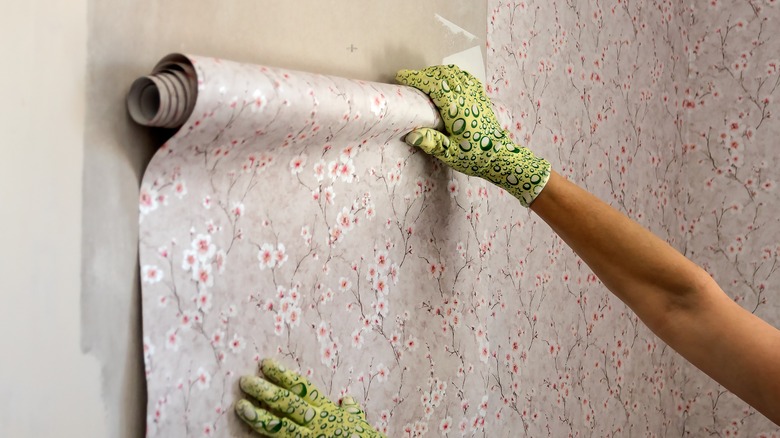 Ludmila Kapustkina/Shutterstock
You thought wallpapers were reserved for the dining room or decades' past? Not anymore. Wallpapers, like colored appliances, are another opportunity to show off a dynamic facet of the owner's inner self. An interest in nature, a reverence for art deco — there are so many unexpected flavors wallpaper can bring to a kitchen of all rooms. 
15. The allure of height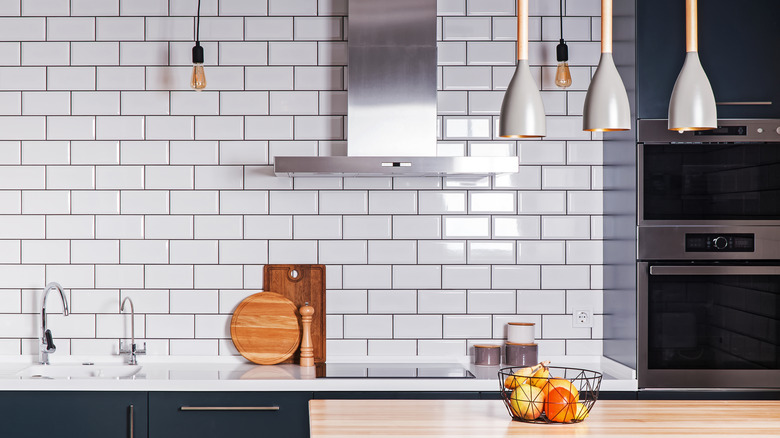 Chiociolla/Getty Images
Backsplashes have often either been constrained or minimized for extra cabinet space. Not anymore. "We're bringing the backsplash all the way up the wall" in 2023, confirms interior designer Alexis Peters. "We're painting the ceiling the same colors as the walls. It's the year for elongating, for luxury, for the allure of height."
16. Smart technology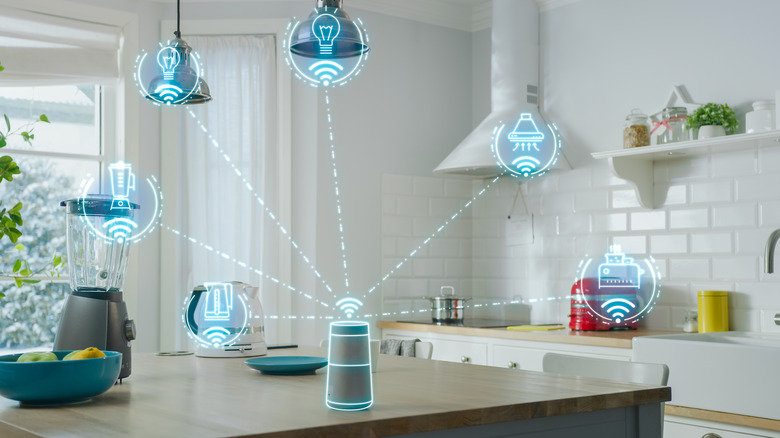 Gorodenkoff/Shutterstock
In an ever-complicating world, it's unsurprising that technological advances are pushing home efficiency forward. Our houses are becoming increasingly in sync with our day-to-day needs. As Melissa Fields asserts, "Smart homes are gaining more popularity and the kitchen is not a space to be left out … Appliances connected to smartphones are timesavers when it comes to cooking meals and getting laundry done when no one is home."
17. Statement slab backsplashes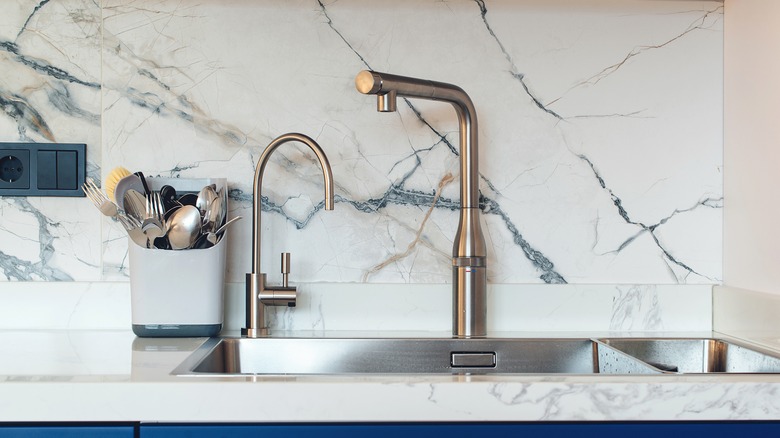 Volurol/Shutterstock
Single slabs can create drama and really dynamic movement within a kitchen. As kitchens look to add more personality in 2023, expect slabs of marble, granite, onyx and other materials to take the center stage. With subway tiles becoming increasingly tired, this will likely become a go-to design opportunity for homeowners to distinguish their kitchens from others.
18. Gone are the days of all-white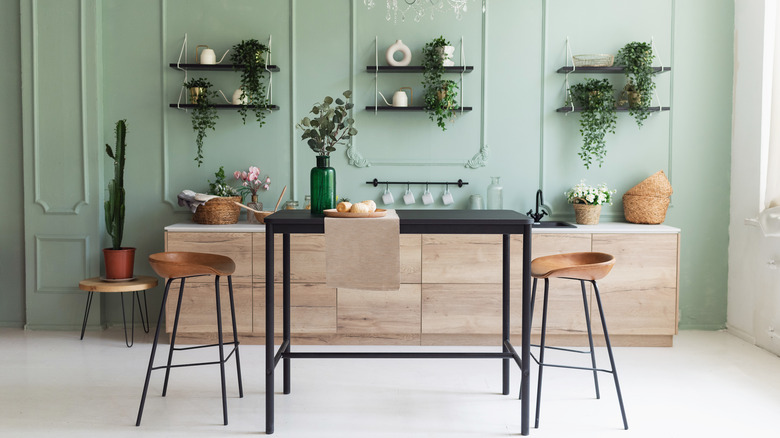 Lysikova Irina/Shutterstock
White used to be associated with clean and calming. However, as we depart from a world obsessed with cleanliness and hygiene, these white kitchens will feel sterile and less enticing. Alexis Peters explains, "We're wanting more from our homes and all-white everything just isn't cutting it anymore. We're craving cozy, and that isn't achieved in the same way with an all-white interior."
19. Reclaimed wood materials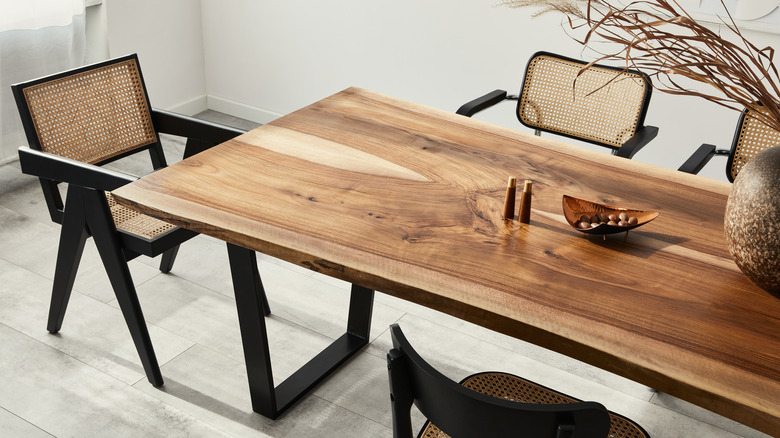 Followtheflow/Shutterstock
As the natural world makes its way back into the kitchen, expect homes to feature more materials from reclaimed wood and other similar materials. These kinds of details bring that wonderfully imperfect and lived-in quality that makes a space feel less sterile, lively, and interesting to look at.
20. Dining islands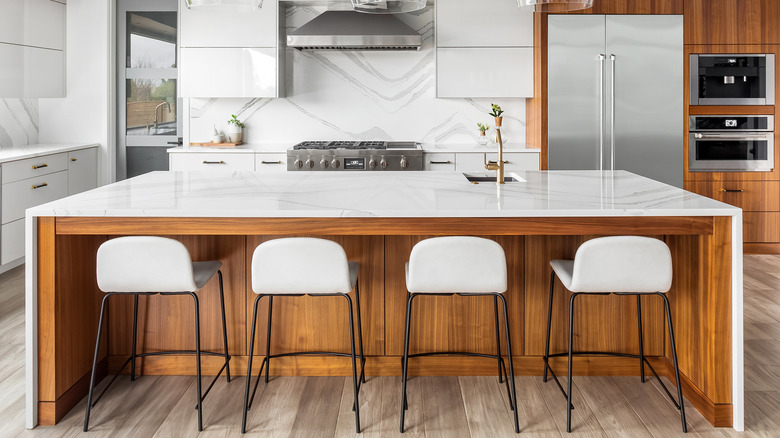 Justin_Krug/Shutterstock
The dining island adds dynamic scale and dimension to any top-rate kitchen. Considering how much socializing takes place at the kitchen island, these days, it makes sense that this trend will remain strong in 2023. Interior designer Nikki Klugh notes, "A dining island (using a large island instead of a dining table) has been a hit because it welcomes the crowd into the kitchen, which has always been the heart of the home and the buzz of a party."
21. Painting the ceiling the same colors as the walls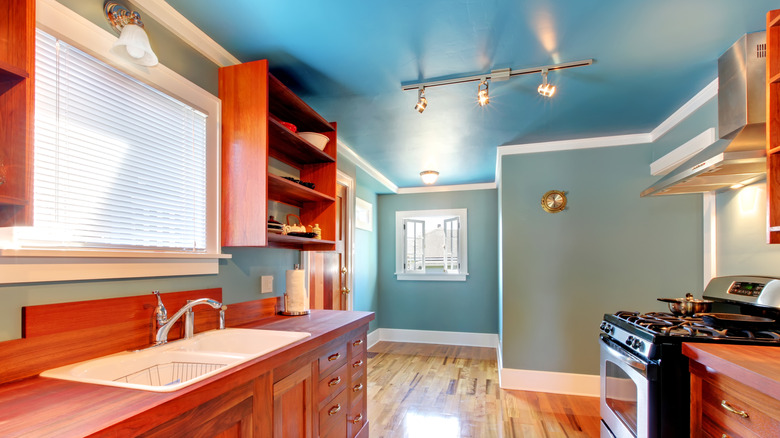 Artazum/Shutterstock
Walls create a feeling. Ceilings create a world. Yes, the lavish and ornate finishes of years' past are making a comeback, and you can expect these more dramatic wall choices to bleed over into the ceilings. It's time for personality and grandeur to make its way back to the main stage. "We've stopped ignoring our ceilings; they need attention as well," notes Alexis Peters. "When the same color (or a slightly darker version) is brought all the way up the room appears larger, thoughtfully designed and more luxurious. And that's what 2023 is all about."
22. 4×4 square tile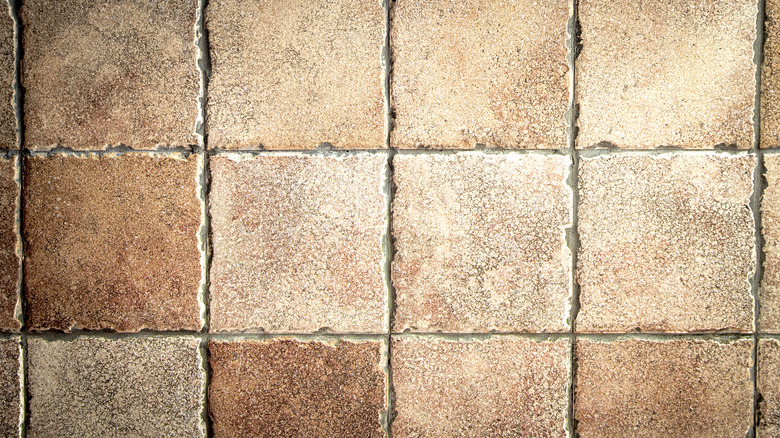 MR_ross/Shutterstock
Similar to other irregular tiles, the resurgence of the imperfect 4×4 tile will further emphasize the disinterest in perfection. Geometric lines can create unity, but this personal touch is what sets this iteration apart from previous eras. According to Cinque Cerra-Saunders, "This tile will be back in a big way but the squares are imperfect — not mold-stamped and precision-cut, but irregular."
23. Dyed-to-match grout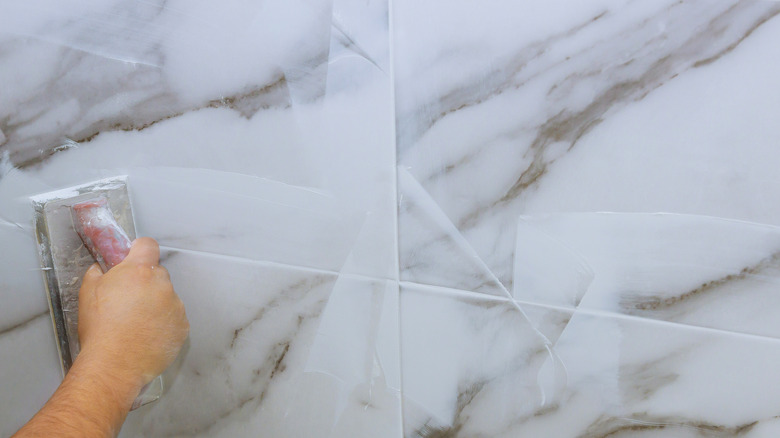 ungvar/Shutterstock
Grout will often be required, from a utility standpoint, even if it can be tedious to clean. That said, grout is being reutilized by blending it with tile and design colors to make it less aesthetically high-maintenance. As Cinque Cerra-Saunders explains, "Contrasting grout has fallen out of fashion for quite some time, but I'm looking forward to seeing matching grouts that go beyond off-white, gray, and charcoal to match an array of tile colors. Think cobalt blue zillij tile with cobalt blue grout."
24. Geometric shelving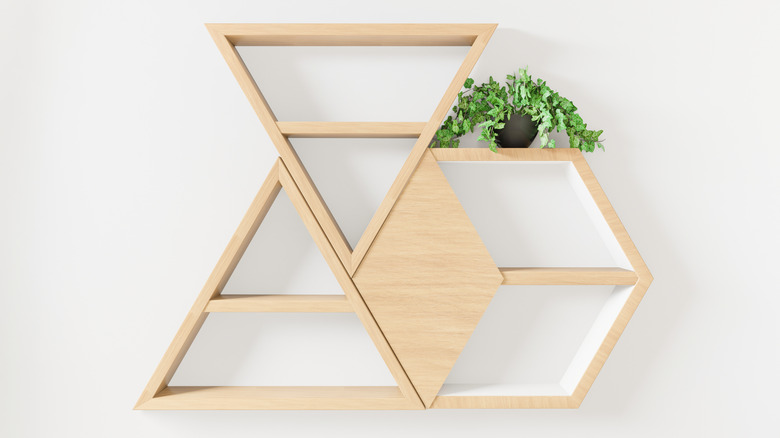 NukTD/Shutterstock
The perfectly mounted, butcher block shelves of the modern farmhouse kitchen are a bit tired. Geometric shape and form are coming back, and shelving is another area of the kitchen to throw something different into the mix for 2023. After living at home for years in the pandemic, form and function are about to come back to equal fitting in terms of design priority. 
25. Handle-free designs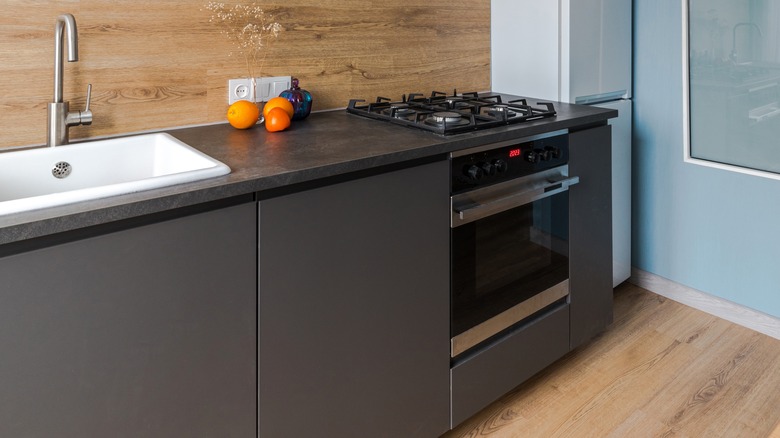 tartanparty/Shutterstock
This is a trend that really flows seamlessly with a variety of kitchen aesthetics. Unless the space is dependent on a brass finish or something specific to tie other elements together, expect the handle-free designs of cabinets and refrigerators to be a prevailing feature of kitchens in 2023. They're sleek, unassuming, and create a very tidy effect.